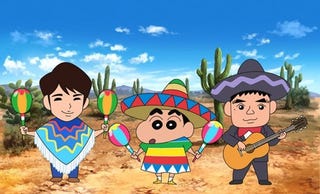 It has been revealed that the Musical Duo Yuzu will perform the Main Theme of the new Shin-Chan Movie, " Crayon Shin-chan: Ora no Hikkoshi Monogatari Saboten Dai Shugeki (Crayon Shin-Chan: My Moving Story! Cactus Large Attack!)" which will air in April of this year.
The Song is Called "Ola!"*.
This song also will be the Ending theme of the anime from February 6.
The Movie tells the story that for reasons of Shin-Chan´s Dad Work, the Nohara family will have to move to the other side of the planet. Especifically, Mexíco, where they will have to deal with a new place, a new culture...and some moving cactus.
Here is the trailer.
* If you are wondering... Yes, If they reffer to ola as Hello, it´s bad written since it´s writted Hola. But if they reffer to Ola as Wave, then it´s correct.