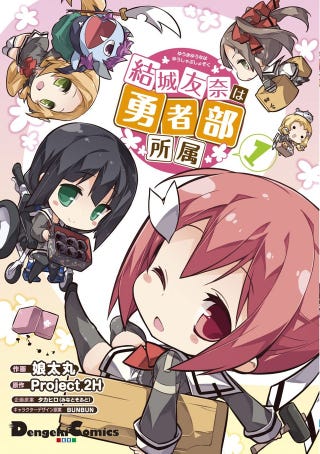 It will premier alongside the movie "Yuki Yuna Is a Hero: Washio Sumi Chapter"

On the pages of the newest number of Kadokawa´s Dengeki G´s Magazine it has been announced that alongside the First movie of the trilogy based in "Yuki Yuna is a Hero" the 4-Panel Spinoff of the manga.
The Spinoff will screen alongside the movie "Yuki Yuna Is a Hero: Washio Sumi Chapter" in March 18.

An Anime adaptation premiered in Fall 2014.
My Aime List describes the story as follows:
"What does it mean to be a hero? Yuuki Yuuna thinks she knows. As part of the Hero Club in her middle school, Yuuki always does her best, wants to help others, and strives to bring smiles to people's faces, no matter who they are.

But Yuuki is about to become a much bigger hero. Mysterious and powerful forces are approaching and threatening to destroy the world Yuuki knows and loves, and it's up to Yuuki and the Hero Club to stop them. Together with her companions, Yuuki uses a special phone app to transform into a magical girl and battle against strange beings called vertices.

In between studying and putting on shows for kids, Yuuki has to fight for the very existence of her world. Can five middle school girls really stop the vertices from entering their home world and destroying it?"
The Second season will premier in 2017.
Via: Crunchyroll Latin América (Spanish)