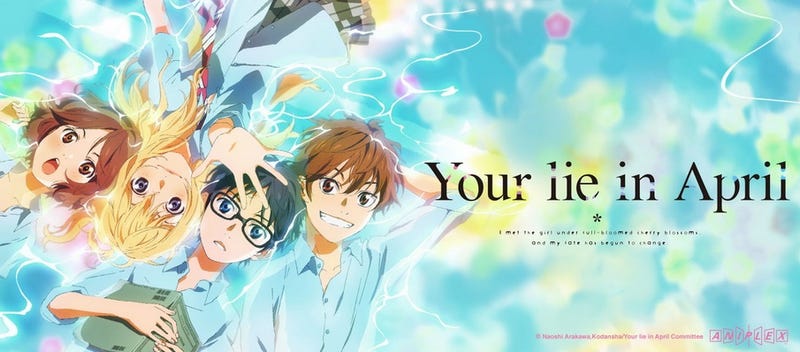 Your Lie in April needs all the hype it can get, so this is a quick and dirty intro to the show/why you should be following it.
What is It?
Your Lie in April (Shigatsu Wa Kimi No Uso) is a shounen anime which premiered on October 9th on the noitaminaA block and simulcasts weekly on Thursdays on Crunchyroll, Aniplex Channel and Hulu. Kousei Arima is a former piano prodigy who lost his ability to hear the piano after the death of his mother. Two years later he has not played the piano since and sees the world in monotone without color but is content with his life until he meets a girl who changes everything. Kaori Miyazono is a free spirited and beautiful violinist who changes Kousei's perspective and makes his world colorful again, helping him return to the world of music.
Why Should I Be Watching?
Your Lie in April is based of the winner of the Best Shounen at the 37th Kodansha Manga Awards (2013) authored by Naoshi Arakawa and will run for 22 episodes, covering the complete series since the manga will also be ending simultaneously with the anime.
Your Lie in April takes a familiar story as well as old cliches and adds new flair to them, combining gorgeous animation from A-1 Pictures with some well-written characters. Classical music lovers will also find a lot to like here as classical music is heavily featured on the show (the Kreutzer Sonata by Beethoven is performed in episode 2!), and the show promises to be more about self-realization as well as a sweet romantic story. This has made it my most anticipated show of the Fall season and through 2 episodes it has not disappointed one bit.
The OP is Hikaru Nara by Goose House and the ED is Kirameki by wacci.
Character Designs
Hanae Natsuki as Kousei Arima
After the death of his mother, his world has lost color.
Risa Taneda as Kaori Miyazono
A free spirited violinist whose playing style matches her personality.
Ayane Sakura as Tsubaki Sawane
Kousei's childhood friend who wants to see him return to the piano.
Ryota Ohsaka as Ryouta Watari
Kousei's friend and the school playboy.
Here is AnimeNewsNetwork's review of the first two episodes.