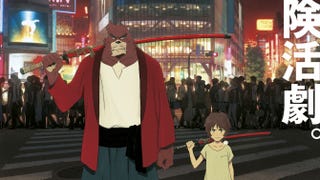 Mamoru Hosoda announced in a conference that his next feature film Bakemono no Ko (The Boy and the Beast) will be released in July 2015 in Japan. Known for his previous films The Girl Who Leapt Through Time, Summer Wars and Wolf Children, Hosoda's films have been critically acclaimed.
"The movie is a training story about a boy who was separated from his parents and becomes a disciple of abakemono (supernatural creature). It's going to be a traditional yet novel story." - Hosoda
Synopsis from ANN:
The story is set in the human realm (Tokyo's Shibuya ward) and the bakemono realm ("Jūtengai"). In these two worlds which must not intersect, there lives a lonely boy and a lonelybakemono. One day, the boy gets lost in the bakemono world, becomes the disciple of the bakemono Kumatetsu, and is renamed Kyūta.
No English release has been announced but his three previous films have all be dubbed and released internationally. The international release will be handled by Gaumont.