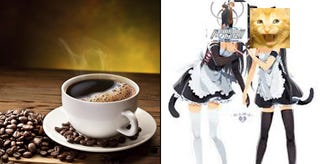 It has recently been brought to my attention that our weekly café is lacking. Because I strive to bring the greatest experience to Ani-TAY, I took fellow writer FruityDrinks' advice and not only have beverages here now but also maids to serve them. Say hello to the new team.
But seriously, topic time. I have another request from FruityDrinks, that you will all answer the following question: "What's your favourite musically themed/infused anime/moments? (OST and SFX are kosher)"
For me personally, there are quite a few moments throughout anime that the music has moved me substantially in a way that would not have been possible with out it. Sword Art Online's soundtrack was so fantastic that even to this day I can listen to it and be like 'damn I liked that show'. I would go into more details because I CAN'T SHUT UP about music, but I have a strange feeling we will be hearing more of my thoughts on this soon. *ahem ahem, unsubtle foreshadowing*
Header from the greatest anime never made. We're working on that right now.
A Week of Ani-TAY
Kevin and I have decided to move the roundup of weekly articles to a separate place, check out the Ani-TAY Drop for this week.
Business Stuff
Want in on the Ani-TAY action? All you need to do is follow this tutorial and tag your article with Ani-TAY in addition to the other tags you see fit. Also remember that the Café has a selection of image assets for your Ani-TAY writing needs and spreadsheets for coordinating with your fellow Ani-TAY writers.
Looking to get involved in some collaboration projects? We currently have some openings for future iterations of Project Hydra, so if you're interested mark which shows you haven't seenhere and then sign up in blank spots here.
Get in touch with Dexomega or Fruity (vespire50) on Skype (or me of course, Protonstorm) so you can get added to the Ani-TAY group. Among other things, the Ani-TAY Podcast may just randomly pull from this group to participate in the After-Hours segments.