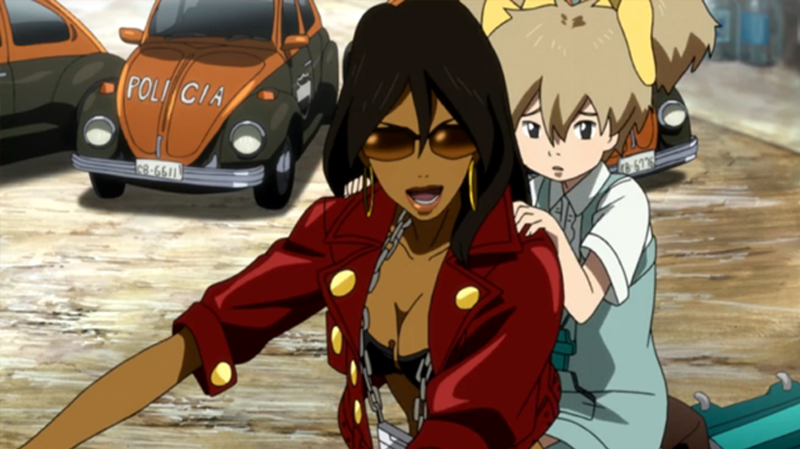 Michiko Malandro breaks out of a high-security prison to see her long-lost love, Hiroshi. Meanwhile, Hiroshi's daughter, Hana Morenos, lives life under cruel conditions with her adoptive parents… waiting for someone to rescue her. She hopes for the best, but instead she gets Michiko.
This is not a formal review, but rather a more intimate look at what the two of us found enjoyable or otherwise, collaboratively written from both our viewpoints. Neither of us had watched this anime prior to us watching it together.
He Liked: A Sense of Style and Place
It's rare to find a show that has so much style and confidence. Michiko and Hatchin gives me the same feeling that shows like Cowboy Bebop, FLCL, and Kill la Kill do. There is a purposefulness in every artistic decision that builds to a coherent whole far outside the norms of more run-of-the-mill anime. Michiko and Hatchin is as far from the all too common high-school setting as a show can get… and it revels in its South American favela aesthetic. The locations are gritty and lived in, the characters are hardened survivors, and the plot has an immediacy of palpable desperation bred by poverty and crime. Michiko and Hatchin breaks the mold and sets itself apart… but perhaps it was too apart for my wife's tastes...
She Disliked: Abusive Foster Family
This anime disturbed me from the very first few minutes. I was so completely turned off when our main character had to cook and clean for her foster family that was supposed to be caring for her. It really had human trafficking undertones. In addition, I was disgusted with the abuse Hana was forced to endure at the hands of her foster siblings. I work for a social service, non-profit agency, and watching this anime brought to mind all the horrible things some of our children have experienced. It was just awful. Honestly, I didn't want to watch past this initial episode, but held on to see if it would get less violent. The very last straw for me was when… SPOILER ALERT ...a woman in search of her little sister was maliciously shot by brainwashed children who are also caught in a human trafficking ring. I literally could not stand to watch another second of this! I want to feel uplifted and inspired when I watch an anime or anything for that matter. This just made me feel disgusted by the human race. I give this anime two thumbs down.
Because this is not an official Ani-TAY review, we have eschewed the normal review card.
Michiko and Hatchin has a lot of things going for it: A powerful sense of style, a well performed dub, and strong female characters amongst other things. However, the subject matter is much more raw than in most anime, and its portrayal of violence skirts the line between comedy and drama. Minor SPOILER ALERT for the scene below.
Here is the final scene my wife and I watched. A gang of armed children gun down the stripper girlfriend of the gang's boss at his behest once she steals 'his take' from her strip shows. She took the money so she and her younger sister could escape the favelas, but in the end they both die. I've experienced anime where characters die and their situations are dark and desperate. So far, my wife has been weaned on a diet of shojo romantic comedy. I think the violent drama was too jarring, as she's been accustomed to anime being a light and fluffy filler show.
If you're looking for a show with a dark side that isn't afraid to get its hands dirty, Michiko and Hatchin could work for you. However, be forewarned that Michiko and Hatchin isn't necessarily for the faint of heart. It is devoid of the bubbly happiness sometimes associated with mainstream anime. If you're looking to share anime with your significant other and attempting to show them that anime can portray serious drama, Michiko and Hatchin might be the show for you. If you're looking for a light-hearted romp, stay far away.
Michiko and Hatchin can be watched on Hulu streaming service. The show is produced by studio Manglobe and directed by Sayo Yamamoto, her first directorial work. The series is licensed for regional release in North America by Funimation Entertainment.
Interested in watching anime with your significant other? My wife and I have written a guide based off our experience watching anime together that offers some tips.