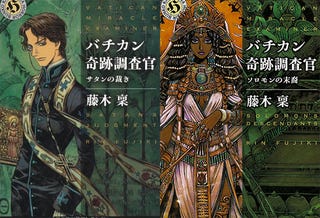 The Story it is about the miracles and Vatican Employees who investigate them.
In the pages of the newes issue of Kadokawa´s Comic Gene it has announced that the series of Mystery Novels "Vatican Miracle Examiner" will get an Anime adaptation.
The Story centers on the Vatican Employees: Hiraga Josef Ko and Robert Nicholas who goes around the world representing the Vatican in order to investigate the autenticity of the Miracles.
Most details are still in the dark. The series of Novels started in 2011 under the label Kadokawa´s Horror Bunko.
Via: Crunchyroll Latin América (Spanish)