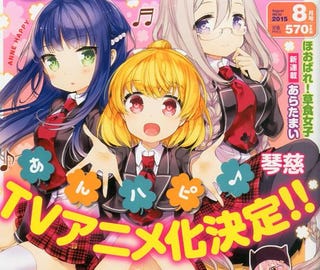 On the cover of the newest issue of Hobunsha´s Manga Time Kirara Forward Magazine it has been anounced that Unhappy! will get an Anime adaptation.
The Staff, Studio and other detailes are still a Mistery.
The Manga centers on the class 1-7 of tennogofune Academy, were all the students with bad Karma or bad luck have gathered in there. A student on this class, Hibari, meets the unlucky Hanako and alongside Botan (an unhealthy person) will try to make the School Life a happy one!.
The manga started on December 2012 and is on going.