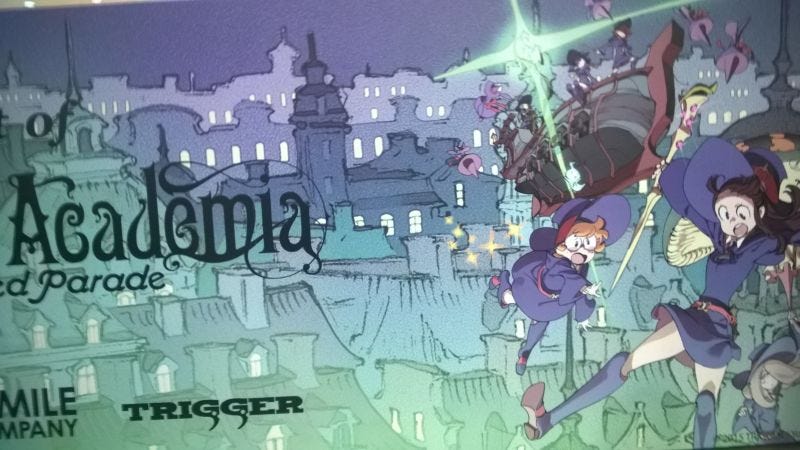 Oh man, I am just so pumped after Trigger's amazing AX panel, I just had to write about it. Here's a quick write up of my experience this year. I have to tell you up front, I was so pumped, I have partially lost my voice from whooing and yelling a lot (added on to the fact I also attended the IG and FLCL panels that were before; and since I was also cheering for those, that amounts to about 4 hours spent in the same room doing nothing but needlessly wrecking my voice from screaming in excitement)
This year panel started a bit later and went on a bit longer than scheduled, I sadly had to leave a bit early, luckily though it was right after witnessing the awesome stuff.
The panel started with an interesting behind the scene look of Kiznaiver and Space Patrol Luluco. From what I can remember, Kiznaiver showed some early designs for all of its characters. In my opinion, they all looked like average anime characters, which isn't bad, but they were definitely missing that Trigger flare.
The in depth look of Space Patrol Luluco was also interesting. There was a lot of shouting of the word JUSTICE! We found out the director, Imaishi, had originally started working on it since 2010, before Kill La Kill. Also that the original idea was to have it air over four seasons, but due to circumstances they crammed it and aired it one, and got what we got. A lot of interesting info was told and a lot of character designs and art was shown. Also the voice actor for Midori appeared and apparently likes to say, "You little shit" a lot.
You'd think after giving two interesting and entertaining discussions about the making of Kiznaiver and Space Patrol Luluco the Trigger panel would end there. But they did the exact thing I was hoping they would do, but did not expect them to actually do. They had info on their new Little Witch Academia TV anime. I would have been happy with a little tease, but nah they gave a significant amount of info. The big news is that they are planning to release it globally, and will do so through Netflix, sometime in 2017. In addition, they showed a lot of concept art which they apparently took from some random animators computer, and were unsure if they were actually allowed to show, but still did anyway. They just begged that no one took pictures, and from what I can tell no one did. Here's a quick list of what I can recall
Mysterious tower structure with vegetation
Akko apparently attempting to fly by attaching two broom sticks to a chair (reminded me of that cartoon gag of attaching rockets to a chair or roller skates to fly)
Designs for potential new characters, and art for returning characters from Enchanted Parade
There was a background art of what I think are buildings in the village near there school.
Other things to expect were told from director Yon Yoshinari in a video message. Here's what I remember:
More secrets of the academy will be revealed
Expect more character development
Expect a big surprise grand ending? Whatever that means.
They also showed apparently someone's private prototype video that may or may not become a future PV, which showed a boat transforming into a Witch mech (greatest thing ever).
If you somehow have not figured out, I am a big Trigger fan so my opinion on the panel is definitely biased. But if you are a Trigger fan, and ever go to Anime Expo in the future, you owe it yourself to attend their panels. For two years in a row they have been my highlight, and this year was even better than the last. The panelist are funny and entertaining, and the audience is also energetic (SUSHIO! SUSHIO! SUSHIO!), the entire panel is just one big celebration of Trigger. They even acknowledge how much the west is a big fan of their work. As wrong as this opinion maybe, and I don't care, "Trigger wins!" JUSTICE!

---
You're reading this on AniTAY. A non professional blog whose members love anime, light novels, manga, and all that cool stuff.