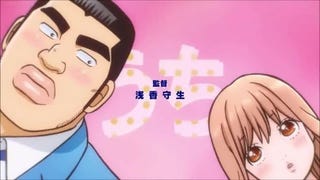 Some time ago it was announced that the Manga My Love Story! (Ore Monogatari!) will have a Live-Action Movie, The cast wasn´t announced a that time. But now it has been!.
The Cast so far is:
Ryohei Suzuki (Gatchaman) as Takeo Gouda (center in photograph above)
Mei Nagano (Rurouni Kenshin) as Rinko Yamato (right)
Kentarō Sakaguchi (Umimachi Diary) as Makoto Sunakawa (left)
The Manga is being published by Viz Media and describes the story as follows:
"Takeo Gouda is a giant guy with a giant heart. Too bad the girls don't want him! (They want his good-looking best friend, Sunakawa.) Used to being on the sidelines, Takeo simply stands tall and accepts his fate. But one day when he saves a girl named Yamato from a harasser on the train, his (love!) life suddenly takes an incredible turn!"
The Manga also has inspired an (Excelent) Anime made by Mad House.
Update: For Some weird reason it looks like the images can´t update properly on Kinja so i will left the Url for the image of the cast.