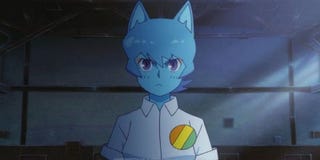 4ºC Studio was the responsible to animate the fighting part of the new chapter of the Amazing world of Gumball.
The past saturday it was the premier of the enwest chapter of the Amazing World of Gumball called "Mom Vs. Mom" where Nicol Waterson will fight agains Masami´s mom.
In such fight scene it has been revealed by Gumball´s Creator Ben Bocquelet, that it was animated by the japanese Studio 4ºC
Besides that Bocquelet has uploaded the character design for both Nicol and... Masami´s Mom, yeah, i forget the name...
Before that a Dragon Ball Z cameo appeared in a past chapter where Gumball became a Super Saiyan and in another episode he tried to become one and only got that his tail grew up and formed a shaped like poo.
Via: ANMTVLA (Spanish)