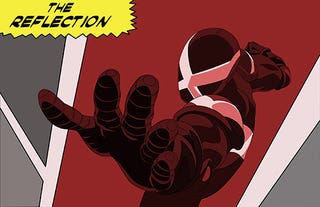 The Comic Legend Stan-Lee and Hiroshi Nagahama (Mushishi) are working on it.
Studio DEEN has announced that they are collaborating with the Comic Legend Stan-Lee (Spider Man,Iron Man,Hulk, Hero Man,Ultimo,etc) and his studio Pow! Entertainment in a new Anime which will be called The Reflection.
Also Hiroshi Nagahama, the director of the highly rewarded Anime adaptation of Mushishi is working on the project as well on the roles of Director and Co-Creator.
Here it is the Promo narrated by Stan-Lee himself.
Studio DEEN Describes the Story as follows:
After THE REFLECTION, some of the people in all parts of the world are discovered with super powers.
Some become heroes, and others villains.
How did the Reflection happen? What was the cause of it?


With many unsolved mysteries, the world is lead into turmoil.
Although the Promo and the Announcement was shown on Comikaze Expo 2015 in Los Angeles. Studio DEEN is focusing first in Japan and later on the rest of the world.

Finally... I am digging a lot of the designs of the Super Heroes. They look more or less like a fusion between American Heroes and Super Sentai Ones.
Via: Anime News Network