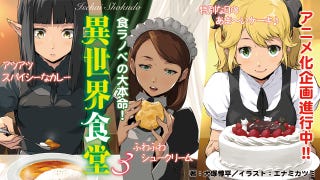 The Light Novel´s author confirmed it on it´s blog.
Light Novel Author Junpei Inuzuka made a blog entry revealing that an Anime adaptation of the Light Novel "The Other World Dinning Hall/Alternate-World Restaurant" (Isekai Shokudou) is in the works, although most details are still Unknown.
Crunchyroll Formus User stark 700 made the next sinopsis of the series:
"The Western Style Cathouse.

Located near the business district and nestled in a poor corner of the shopping district in the first basement floor of a multi-business building. From 11 A.M. to 3 P.M. is lunch time, and 6 P.M. to 9 P.M. is dinner time.

During holidays and weekends, the business district becomes empty. Lunch is up to 1000 yen. You have your free choice of rice, bread, and soup and it's a good variety.

On the signboard mounted on the store's entrance is the image of a beckoning cat. The cat's bell is the main feature of this mascot. My cat-loving grandpa left this small store to me who, if I had to say, liked dogs better.

In other words, an average restaurant you can find anywhere.

...Ah, but there's one thing that's different from other places. Every Saturday, the store has some very special guests come in, and it becomes a business day. Shouldn't the store be closed? That's right. That's why it's a special sale.

Only on Saturday, we welcome only these special customers, and because of that, superficially it's a holiday. Even I don't know when my grandpa started doing this.

But, "Those on the Other Side" call this place "The Other World Dining Hall."
Via: Anime News Network