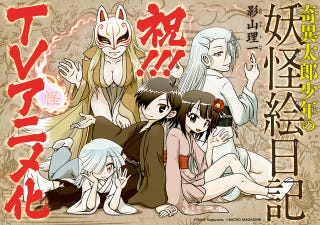 On the website of the "Manga Goccha" (A Manga website) has announced that an Anime Adaptation of Kiitaro Shōnen no Yokai Enikki manga is in the works.
Creators in Pack (Hacka Doll, Ojisan to Marshmallow) is producing the series the details are still too few; but Creators in Pack will have an event in early May to talk about the project.
Anime News Network describes the story as follows:
The horror comedy that's not scary at all revolves around Kiitarō, a boy with a strong sixth sense who is always surrounded by demons. He gets talked to by Yuki Onna (snow women), gets his bath licked by Akaname (licking demons), and lives with the Zashikiwarashi Suzu, whom he just can't come to dislike.
Via: Anime News Network