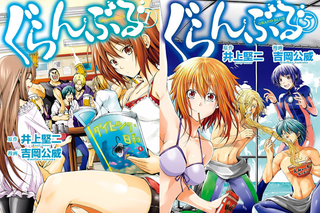 ... Or it Won´t?
Okay, this news is a little weird; During a brief time on AnimeJapan´s Website it was briefly put under Avex Pictures that an Anime adaptation of Drunk Shenanigans Diving Manga "Grand Blue Dreaming" is in the works.
Still As I have said, it was just briefly since little time later such notice dissapeared and there are no works under Avex Pictures.
So either it was leaked by accident or just a mistake, it is still a Mystery.
Helvetica Scans describes the story as follows:
" A new life begins for Kitahara Iori as he begins his college career near the ocean in Izu city, full of excitement for his new life. He will be moving into his Uncle's diving store "Grand Blue." There he finds the beautiful ocean, beautiful women, and men that love diving and alcohol. Will Iori be able to live his dream college life?"
I have been reading the manga (alongside Gugsy, Shade and RockmanDash) and We all agree that it is an amazingly funny manga that everyone should give a read, so particulary I would love an Anime adaptation. Here are some examples:

Via: Moetron