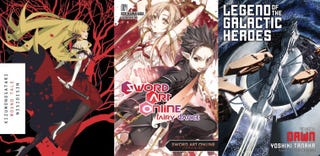 Michael and I recently participated in a round-table discussion about the state of the light novel market heading in 2016. You can find it on theoasg.com!

It's been about two years since Yen Press announced at Sakuracon that they'd be making a push to bring more light novels to the West. The history of LNs was poor when they announced it, and it seemed unlikely that there would actually be a growing market once TOKYOPOP went kaput.

Times have changed a lot. Once an unknown, with light novels being adapted into anime more of us are now familiar with them. So, what is the current state of LNs today? I reached out to 5 people that have been covering LNs since its big push: Sean Gaffney (A Case Suitable For Treatment), Cho (English Light Novels), Matt and Michael (Taykobon), and Justus Stone (Author of The Bleeding Worlds series) and ask how they see the LN market so far.