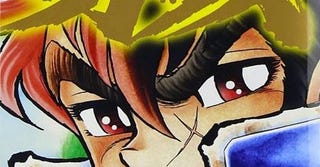 The Clasic of Masami Kurumada, who isn´t called Saint Seiya or Ring ni Kakero, will end it´s current Arc called [Yoko]Hama no Julie (Julie of Yokohama) and will start a new one in their next chapter.
The Manga revived after a 30 year Hiatus in the past June.
Otoko-Zaka is the first published manga of Masami Kurumada and was published in Shueisha´s Weekly Shonen Jump from 1984 to 1985. However the story was halted after three volumes and remained incomplete for 30 years.
The Story centers around Jingi Kikukawa, a young man who has never lost a fight in 13 years until he fought against Sho Takeshima. This fact put Jingi in a training in the art of fighting with Kenka-Oni, a demon who lives in Oniyama.
Well, i don´t wanna sound like some others whiny Saint Seiya fan boys out there. But... Yea ¿When is going to come the new Next Dimension chapter?