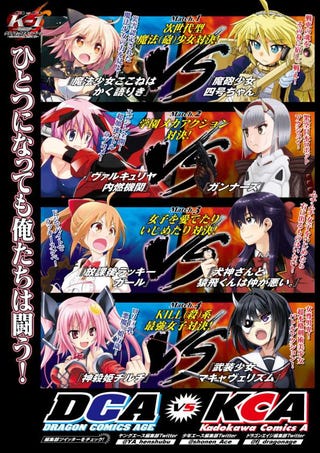 4 Days ago. The Manga Magazine Dragon Age said by his Twitter account said that they have some new Manga to present. Litle time after, the Manga Magazine Young Ace responded saying that they too have some new manga.
From that... The Hell Broke up. And the insults, teasing and unprofessional remarks.
As many of you may know, Both Magazine´s are owned by Kadokawa Shoten. And both of them were planning a colaboration work. When Dragon Age told Young Ace that they need to send an email to Dragon Age staff in order to notify them, Young Ace acceded but said that "they were treating them like an stranger".
The Day after that Young Ae stated that they felt uncomfortable working with Dragon Age since they sahre a name with a Famous video Game Franchise (I Wonder what it is j/k) so it lacks name recognition. Dragon Age respondes saying that even with that theya re more recognizable than Young Ace, since Dragon age has more followers on twitter (2,531) than them (1,197) and asked them if those "shitty replies" came from Katou (An editor?. I don´t know).
Young Ace responded saying that the person at charge of Dragon Age must be the "Editor-in-chief Hitomi, who´s famous for being S at Work, M at Home!" . Dragon Age then called offthe partnership until Young Ace apologize.
The things heated up when Young Ace linked an article saying that Kadokawa will seek to retire 300 persons early and saying "Perfect for Hitomi!"; which Dragon Age responded that Hitomi is not yet 41 years old, so she doesn´t apply in that category.
The 22 of January the fight came to a innpass situation when Young Ae said "You eat from the same pot as Shonen Ace! Why stoop to this?", which Dragon Age replied: "From head to toe, I'm a Dragon Age person". After that both Magazines agree that there was nothing more but fight!.
After that Young Ace announced the "K-1 Climax Campaign" which involves series from both Magazines.
It was a Stunt act after all. Both Magazines asked their followers to vote which series do they preffer and to look for Special Images of the Battle between their series.
Also both of them apologize to it´s reader, staff and authors from any missunderstanding.