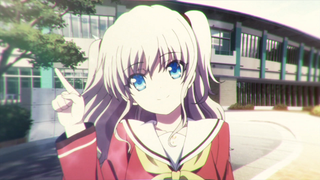 I decided to post this one late night due to a request for an ambient atmosphere, so here you go.
Let's talk about some music, I like doing that every few weeks. More specifically, anime music that you like to listen to later in the night.
I usually have a sort of pleasant nostalgia that I feel every few days when it's late at night, so I like to listen to soundtracks from anime that have emotional meaning attached to them from the show they were in. Lately since I've been really enjoying Charlotte (haters gonna hate), I've been listening to the Angel Beats! soundtrack, namely this song:
Header from Charlotte.
Storytime With Storm
This section will include the musings of me, Protonstorm, about life and the universe and will be on cafes on the occasion. Sometimes there will be music.
So I think this is a good time to mention that I have a bunch of articles coming out this next week, feel the hype. There will be some variety. Essentially, back when I was on vacation I had this idea that I would have a 'legit' day where I would post here for one day like I was a paid author on Kotaku. Unfortunately, I ended up not having a working computer and now I'm busy with classes, so instead I've been releasing things over time. For example, that Classroom Crisis article I posted last week and the Sound! Euphonium review, both of which were planned for legit day. I have a bunch more that I will be posting this week now since they are all just sitting somewhere between half and 3/4 complete in my drafts.
Here's some fun music from my favorite composer as a bonus track for tonight:
A Week of Ani-TAY
I've added a section here for a random drop from weeks past, just in case you want to randomly look at older articles for fun.
Kevin and I have decided to move the roundup of weekly articles to a separate place, check out the Ani-TAY Drop for this week (not updated yet).
Random Ani-TAY Week:
What Is Ani-TAY?
For those of you visiting for the first time (or not, I don't know) and wondering just what exactly you're looking at right now, here's a document explaining our blog and wonderful community:
Business Stuff
Want in on the Ani-TAY action? All you need to do is follow this tutorial and tag your article with Ani-TAY in addition to the other tags you see fit. Also remember that the Café has a selection of image assets for your Ani-TAY writing needs and spreadsheets for coordinating with your fellow Ani-TAY writers.
Looking to get involved in some collaboration projects? We currently have some openings for future iterations of Project Hydra, so if you're interested mark which shows you haven't seen here and then sign up in blank spots here.

Among other things, the Ani-TAY Podcast may just randomly pull from authors to participate in the After-Hours segments.