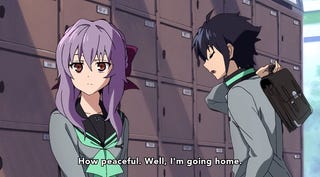 And so ends Comedy Week. First off, I'd like to give a big thanks to all of the writers who contributed their talents to my amalgamation. It was a good time. Some special thanks:
Thank you to Kevin for agreeing to design the Ani-TAY Meta Meter and edit through that podcast, it was a good time.
Thank you to Stanlick for saving your Food Wars article for Comedy Week and setting up the glorious summer season list, it was a good time.
Thank you to Krakken_Unleashed for that Baka Guide and surviving Yanderestorm (kind of) during that interview, it was a good time.
Finally, thank you to MaelwysSC113 for coming up with some ridiculous conspiracy theories that basically were like Ani-TAY Drops except with more ecstasy, as well as finally compiling 'I'll Dex Your Omega', it was a good time.
So, what were your favorite parts of Comedy Week? This could be specific articles, or it could just be a certain aspect of the programming that you found appealing.
Header from Seraph of the End.
A Week of Ani-TAY
The Ani-TAY Drop for this week was a daily round-up, check them all out over here:
What Is Ani-TAY?

For those of you visiting for the first time (or not, I don't know) and wondering just what exactly you're looking at right now, here's a document explaining our blog and wonderful community:
Business Stuff

Want in on the Ani-TAY action? All you need to do is follow this tutorial and tag your article with Ani-TAY in addition to the other tags you see fit. Also remember that the Café has a selection of image assets for your Ani-TAY writing needs and spreadsheets for coordinating with your fellow Ani-TAY writers.
Looking to get involved in some collaboration projects? We currently have some openings for future iterations of Project Hydra, so if you're interested mark which shows you haven't seenhere and then sign up in blank spots here.
Among other things, the Ani-TAY Podcast may just randomly pull from authors to participate in the After-Hours segments.