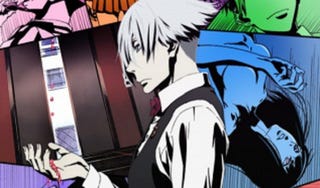 Header from Death Parade.
Today's Specialty
This next week begins the Winter 2015 season of anime! While to pickings have been acknowledged by many of us Ani-TAYers as slim, there are still several excellent-looking shows popping up. I think my current hype show would be Death Parade. During Anime Mirai 2013, an episode (before there were plans for a show) was aired called Death Billiards (go watch it, it's pretty fantastic) featuring two men who found themselves in a bar attended by a man who has them play a game of billiards. The bartender hints that the game will hold serious consequences for the loser. The fact that they decided to make an anime out of this, something that rarely happens for anything in Anime Mirai, has me pretty excited. What about you guys?
A Week of Ani-TAY
We had several reviews for the past season this week, as well as several 'top' lists. I've already linked seven different articles, but there was so much content this week that if you want to see it all I recommend visiting the main Ani-TAY page.
Business Stuff
Want in on the Ani-TAY action? All you need to do is follow this tutorial and tag your article with Ani-TAY in addition to the other tags you see fit. Also remember that the Café has a selection of image assets for your Ani-TAY writing needs and spreadsheets for coordinating with your fellow Ani-TAY writers.
Looking to get involved in some collaboration projects? We currently have some openings for future iterations of Project Hydra, so if you're interested mark which shows you haven't seenhere and then sign up in blank spots here.
Get in touch with Dexomega or Fruity (vespire50) on Skype (or me of course, Protonstorm) so you can get added to the Ani-TAY group. Among other things, the Ani-TAY Podcast may just randomly pull from this group to participate in the After-Hours segments.