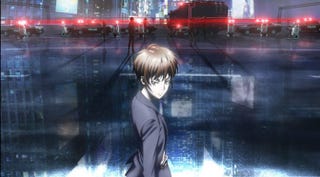 Come join us in the Ani-TAY Café: your stop for discussing all things anime, manga, visual novels, and anything Japan. Today we'll be discussing philosophy in anime.
Let's chat a bit about shows that have philosophical themes, or just make you think about the world in general.
Header from Psycho-Pass.
---
Today's Special:
One of the main things I love about anime is its ability in many cases to delve deeply into philosophical themes and provoke internal examination of ones' beliefs. My primary interest of study in school is legal philosophy and I've found Psycho-Pass and Death Note to contain compelling philosophical themes. In the case of Psycho-Pass, the show raises significant questions about the balance between liberty and security. Considering some of the events in recent news, this is obviously worth thinking about as we consider things such as racial profiling in policing and the ability for the police to be impartial. Should policing be taken out of the hands of potentially biased and emotionally influenced humans and put into the hands of some sort of impartial system similarly to the world of Psycho-Pass?
Death Note also raises a number of interesting themes especially regarding whether one person has the right to pass judgment on criminals, even if these criminals cannot be touched by the law. My friend (who has never been exposed to anime before) and I were watching the first couple episodes of Death Note on the drive to school and we had a long discussion about this, especially in regards to whether we would ever use the Death Note, especially in cases where criminals managed to escape the law (See the Karla Homolka, and David Zimmerman controversies for example of the type of thing we were discussing) or where the death of one person could save thousands (ie. Would you use the Death Note to kill a dictator threatening the lives of their people with genocide?).
So what shows stand out to you as having potent philosophical themes or made you think more about an aspect of the world?
Don't like today's special? Well there's plenty on the menu, so take a walk around the Café and talk with the other customers. Talk about anything.
---
Want in on the Ani-TAY action? All you need to do is follow this tutorial and tag your article with Ani-TAY in addition to the other tags you see fit. Also remember that the Café has a selection of image assets for your Ani-TAY writing needs and spreadsheets for coordinating with your fellow Ani-TAY writers.
Come join Ani-TAY on MyAnimeList too! We've got forums set up to discuss the ongoing anime this season and you'll get a sneak peak at the Ani-TAY community views on shows of the season long before the reviews come out.
Remember to visit TAYnami for even more weekly discussions about our favorite medium: anime.
Get in touch with Dexomega or Fruity (vespire50) on Skype so you can get added to the Ani-TAY group. Among other things, the Ani-TAY Podcast may just randomly pull from this group to participate in the After-Hours segments.