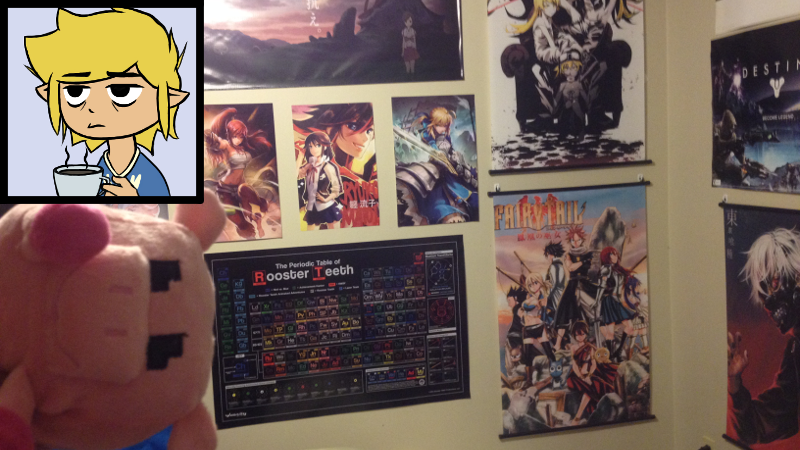 In lieu of Protonstorm's regular post, I've decided to fill in with my personal rendition of the Sunday AniTAY Café. In his terms, this will probably be "just a cop-out," but we shall have fun nonetheless. Today's plan: ROOM TOURS!!
SHOW ME YOUR ROOM
So, you know what we have not done yet on AniTAY? We haven't given each other a tour of our rooms. I'm sure many of you have a collection of something anime related, or a super otaku room, or something that most normal people would question you for. Here's a collection of pictures of my room just before I temporarily moved out (don't mind the pig):
Shinsekai Yori, Monogatari series, Erza - Fairy Tail, Ryuko - Kill la Kill, Saber - Fate series, Rooster Teeth thing, Fairy Tail.
I don't know why I took a photo of my bed.
Tokyo Ghoul, Kuroko's Basketball, Zelda, Halo.
Another Rooster Teeth thing.
Some destiny stuff (I played it for one week. Will replace with anime stuff at some point). That metal-looking thing on the wall is a steel plate, with "Stanlick" and the triforce engraved into it.
Achievement Hunter Flag, Attack on Titan (god help me), Makise Kurisu - Steins;Gate, RWBY, Yuuki - SAO, Asuna - SAO, Sinon - SAO, Saber - Fate, Erza - Fairy Tail.
As you can see, I am a fan of various anime that you don't like, as well as a fan of Rooster Teeth and company.
Show me what you got!
Poemtime with Stan
Mai Haiku, By Stanlick:
I like anime.
Do you like anime eh?
I love anime.
What Is Ani-TAY? (I totally just copied this section)
For those of you visiting for the first time (or not, I don't know) and wondering just what exactly you're looking at right now, here's a document explaining our blog and wonderful community:
Business Stuff
Want in on the Ani-TAY action? All you need to do is follow this tutorial and tag your article with Ani-TAY in addition to the other tags you see fit. Also remember that the Café has a selection of image assets for your Ani-TAY writing needs and spreadsheets for coordinating with your fellow Ani-TAY writers.
Among other things, the Ani-TAY Podcast may just randomly pull from authors to participate in the After-Hours segments.