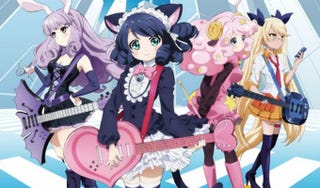 The Spinoff of the "Show by Rock!!" Anime.
The Official website of Sanrio's Show By Rock!! Anime has announced that it´s Spinoff "Show By Rock!! Short!!" will appear on July 4. The Spinoff focus on the daily lives of the characters, including Plasmagica and Shingan Crimsonz.
A Second Season is already in the works. Although at the moment there aren´t any date announced whatsoever
Takahiro Ikezoe (Show by Rock!!) is working as the Director again at Studio Bones.
Via: Crunchyroll