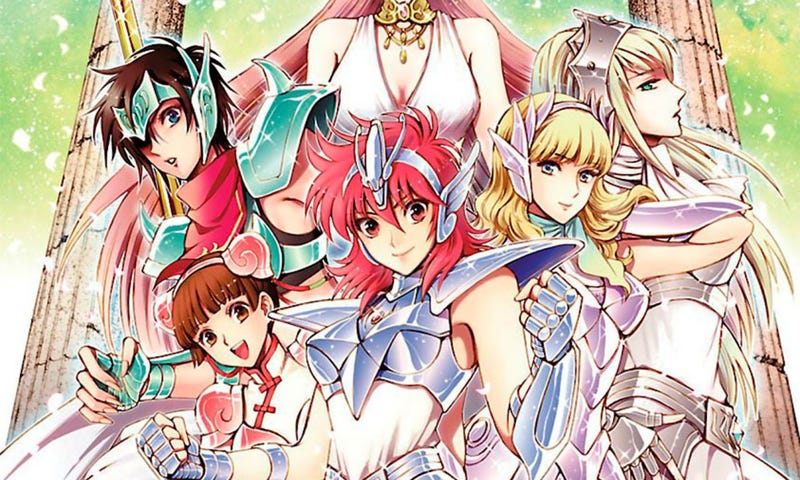 Plus an announcement of an annoucement for the anime adaptation
Seven Seas entertainment has announced that they will publish in the United States, Chimaki Kuori´s manga of Saint Seiya: Saintia Sho, being the release date for the first volume on February 6 of 2018.
Seven Seas Entertainment describes the story as follows:
"In the wake of a space-wide civil war instigated by Saga–the Gemini Gold Saint–a new team of Saints comes together with the goal of protecting their goddess Athena. This first all-woman team of armored warriors, powered by the Zodiac, will use their cunning, strength, and compassion to defend their worlds and oppose their very destinies."
On related news, the Spaniard and Argentinian publisher Ivrea will bring this manga to both Spain and Argentina.
Now on the Anime related news, in the pages of the newest number of the Magazine Akita Shoten Champion RED it has been announced that new info of the anime will be coming soon; at the same time CHimaki Kuori stated on twitter that she has meet with the people of Toei and the time to share new info about the anime is upon us.
Finally, as you might know I have been covering the manga for quite some time now (and yes, I am behind schedule; I promise to fix that soon one way or the other) and I have even wrotte my Impressions for it the past year.
So having said that I truly recommend the manga since if someone believe it is a Siant Seiya genderbent, it is not; nor it is a Magical girl with a Saint Seiya Motiff; Also it is not a fan service heavy (there are, for both for men, girls and Saint Seiya fans alike; but it is too little), what this manga has it is a Saint Seiya story full and through. Which means amazing fights, likeable characters, powerful enemies, and a shred of Mystery about secrets of the past that haven´t been told. In truth it is a manga that i Highly recommend to give it a watch.
Via: Anime News Network