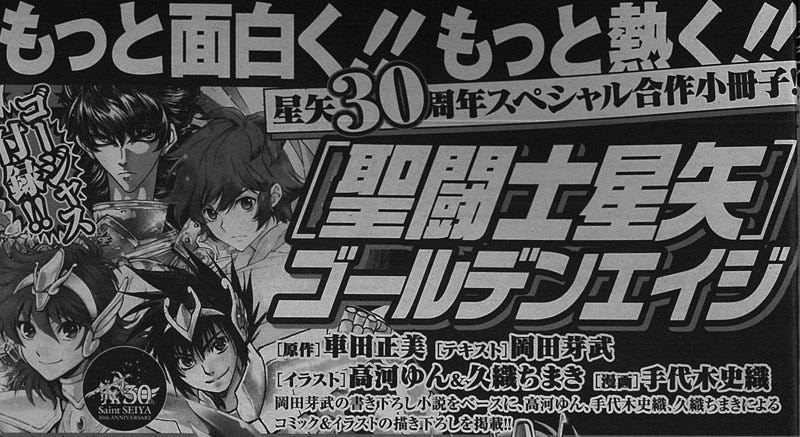 It will be called "Golden Age" and is in conmemoration of the 30th years of the franchise.
On the pages of the newest Akita Shoten Champion Red Magazine it has been announced that Megumu Okada (Episode G/G Assasins), Shiori Teshirogi (The Lost Canvas/The Lost Canvas Anecdotes), Chimaki Kuori (Saintia Sho) and Yun Koga (who before being a Mangaka she liked to do Saint Seiya Doujins) will join together and release a One-Shoot Manga based on Saint Seiya, called "Golden Age".
Okada will be in charge of Dialogs and Story line; Shiori Teshirogi on design; Chimaki and Yun on illustrations.
This is not the first interaction these Mangakas have had. Specifically Okada, Teshirogi and Chimaki, since some time ago they launched a "Episode G x Lost Canvas x Saintia Sho" One Shoot Manga (which the idea came after they had some Alcohol) , where the main Character of every Manga represented the Mangaka who is drawing it...And yeah, they did lots of random stuff.
On the same time they released fan arts of the other Mangaka´s Characters.
While the 30th Anniversary was technically on December 2015/ January 2016. June has been chosen to be the month to make the celebrations.