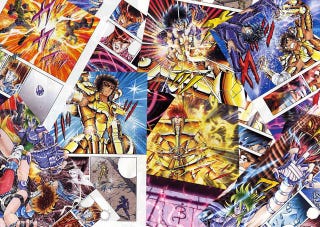 On the Weekly Shounen Champion.
The content of this week´s Weekly Shounen Champion Magazine has revealed that the "New Season" of Saint Seiya Next Dimension will come back.
The chapter will consist of 24 pages and will have some pages in full color. Besides that the cover for that week will be about this manga.
SKD Scans group has translated the little precept of the new chapter which is as follows:
"Dragon Shiryu runs up through the Sanctuary in order to meet with Athena Saori. However, before the Shiryu arrives at the Scorpio Temple, an accident occurs in the sanctuary...!?"
Saint Seiya Next Dimension is tha canonical Prequel/Sequel of Saint Seiya and it is about the 18th Century war against Hades.
Via: Universo Saint Seiya (Spanish)