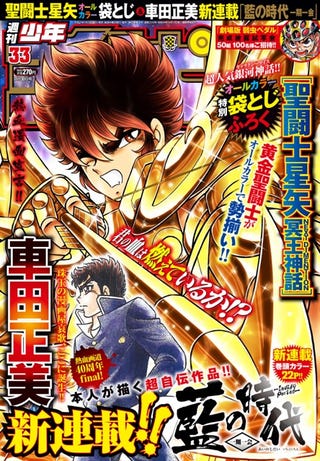 After a year+ Hiatus.
On the pages of the new number of Akita Shoten`s Champion Red Magazine we were greeted with two works from Kurumada Himself (Saint Seiya, B´T X, Ring ni Kakero, etc).
The First one is Indigo Period, an autobiographic Manga were we will see (in a very exagerated way) the young days of Masami Kurumada. This is a mini series of 8 chapters.
But the news that most likely will resound more witht he fans is the announcement that Saint Seiya Next Dimension willr eturn this Fall!.
You See. On this Number there was an special Chapter, which needless to say doesn´t add much to the story. But by the end of this 8 Pages Chapter it was this important announcement.
Also i have to say that by the Japanese, Fall starts on August/September.
Saint Seiya Next Dimension is the Canonical Sequel/Prequel and is about the past war against Hades and how the Athena of our time, alongside Shun, goes to the past in order to save Seiya, who was mortally wounded in the Battle against the God of the Death.
In Similar News. Shiori Teshirogi (Saint Seiya The Lost Canvas) has revealed that the Spinoff of the Spinoff,Saint Seiya The Lost Canvas Gaiden, will end soon, after the chapters called "The Old Twins". Although she said that 2016 will be an important year for this Series, some people speculate and say that it might be the third season of the Anime.
On a SImilar note. Here in México Matsuri Tv will present on the Cinemex Movie Theaters the First season of the Anime of Saint Seiya The Lost Canvas, Guerreros del Zodiaco El Lienzo perdido on Spanish. The dates will be on August 8 and 9.
To finish. Kurumada has again trolled the fans because the hairs of Mu, Camus and Milo are the same of the Anime, when in the Original manga they were blonde (It could be litle, but there are some fraction of the fan base that follows anything of Kurumada like if it was the word of God).