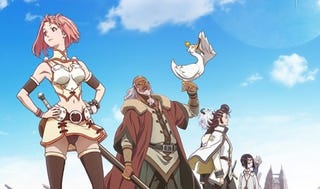 The official website for the sequel of "Rage of Bahamut Genesis" has uploaded a new promo for the upcoming anime "Rage of Bahamut: Virgin Soul".
The Anime will be 24 chapters.
Funimation describes the story of the first season as follows:
"Two thousand years ago, the black-and-silver-winged dragon, Bahamut, terrorized the magical land of Mistarcia. The humans, god, and demons that inhabited the land united forces against the fiend and sealed its power into a key which was split in two, one half protected by gods and the other protected by demons. Now, Mistarcia is a peaceful realm – until a human woman steals the god's half of the key."
Thanks to Tenshigami for the tip!