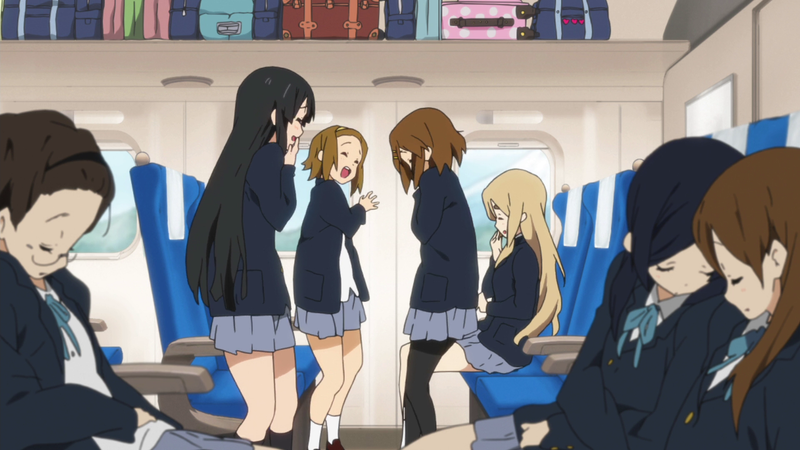 I'll go ahead and get this week's question of the week out of the way first before I write the inspiration for it, so don't feel like you have to read all of the stuff below, I'm just itching my writing crave while I'm without internet.

What are anime you have on home media that you like to throw in when while you're traveling, moving, or maybe just without internet?
—-
"Okay I'm looking at a ton of anime on discs here at this shop in LA. What're some you wish you had?" My brother asked as I was on the other end of the phone, struggling to move boxes into our moving truck.
"Oh don't worry about that, they won't have it." I laughed back towards my phone on speaker.
"Try me."
I laughed, took my gloves off and sent over my wishlist to him. Forty five minutes passed and I got a text:
"Sorry man, that store was overwhelming."
I let out a long, tickled laugh. Bless my brother's heart, he really tried to look up stuff like "Hanamonogatari" and "The Garden of Sinners" in an area unknown to him. That alone got my holiday heartstrings pulled.
Yes it is a welcome distraction I had yesterday from my brother, as the holiday season has been unorthodox for me! I have been busy with my eighth (eighth!) move in the last four years- this one has been the biggest one yet. I came home to help my folks move from the house the family came up in to their dream home. With a fresh new job transfer in the area, I've had most of my days off being eaten up by running around getting everything we need and making things easier for the family.
Recently, we lost our Internet access, so I've been surviving my anime fix off of a FANTASTIC selection of anime DVDs at my local library. Everything from another trip through both seasons of "ef" to my first time watching "Non Non Biyori" (which, embarrassingly, the librarian thought I was getting for a daughter I didn't have- her words, not mine ha ha ha), I've been actually watching more anime than I have all year just from leaving the discs playing while I pack up.
I'm not the only person in our family who watches anime though, as my mother has had a hankering for binge watching anime too! This has been a great time for us to see things we have been meaning to watch together, such as "K-On!" or even watch "Your Name." for the first time since she visited my last home and we went to see it.
Yes the holidays are extra stressful for a thing like this, but anime is there to help!