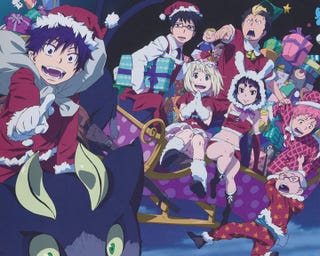 Welcome, Welcome! The gift season is over and we know that there where a lot of unwrapped gifts lying around on different places of the world, so it´s time to brag and show us what you got!
The question this week is What Geek/Nerd/Weeb Gift received or gave this year? Or if you have gotten some of those in a moment of your life?
On My case when I was a child and Saint Seiya was everything everyone talked about, on a Christmas Me and My brother got as gifts some Saint Seiya Toys, especifically The Libra and Aquarius Gold Saints, which where the zodiac constellations of ours. Those Toys where amazing! Lot´s of details and the armors where made of metal and quite heavy! One could put them the armor on the character or transform it on the "object" form and make the constellation representation!Of course, we didn´t know at that time; but those where toys that were made more in order to display instead of play, so in the end after some time playing with them, some pieceswhere missing and whatnot, stillgood and fun times!
Now the last "Weeb" gift I gave was the Saint Seiya: The Lost Canvas anime collection to my Sister, I bought the first 3 DVD´s on El Buen Fin (Mexican Black Friday) and after watching them with my Brother and Sister My Sis got hooked on the series! So much taht the next day after work Me and My brother where surprised to see that My Sis bought the other 3 subsequent DVD in order to keep watching them! So for that we bought her the following 6 DVD so she could get the complete series on Christmas.
Anyway, what gifts or gift stories you have to share? Let us know int he comments bellow!