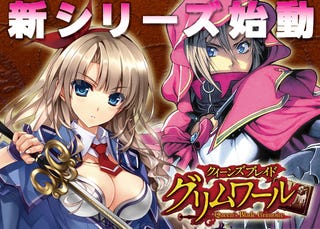 In Celebration for 10 years of the Franchise.
On the newest Issue of Hobby Japan Magazine it has been revealed that Queen´s Blade Grimoire will get an OVA Adaptation in a 2 part OVA this Fall.
Queen´s Blade Grimoire has characters from the Literature of all the world, including Sun Wukong, (Travel to the West) Alicia (Alicia in Wonderland), Red Riding Hood (Litle Red Riding Hood) and others.
The Magazine also revealed an Image which features Reina (the Main Character) , Yosaru no Shijutsushi Seiten (Sun Wukong), Fushigi no Kuni no Yamitsukai Alicia (Alicia in Wonderland), Akazukin no Makaribito Zara (Red Riding Hood).
The Story takes place after the Championship of Reina ended and Alicia uses Black Magic in order to open a door to another dimension. From that door a Rabbt takes Alicia to that Dimension, Melfairland, were a new Queen´s Blade Tournament will take place. And now Alicia will participate if she wants to return to her homeworld!.