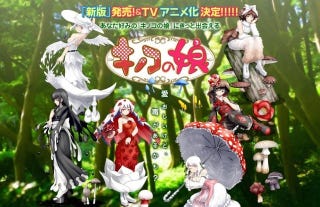 Mushrooms will take the form of girls!
It has been announced that an anime adaptation of Oso-teki Kinoko Gijinka Zukan is being in the works under the name of "Mori no Yousei Kinoko no Musume".
The Source material it focus on the adventures of Mushrooms who has been humanized as cute girls. The Anime for it´s part it will be a 3D Anime with some musical parts.
The Anime will premier in 2017. Other details about the satff and such are still unknwon.