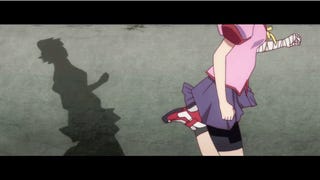 Most of the time I pick an OP/ED primarily on the strength of the song, with meaningful visuals being a plus if they are present. This is not the case with today's pick, which is impressive on many levels but most of all its storytelling.

Title: The Last Day of My Adolescence | Artist: Miyuki Sawashiro | Anime: Hanamonogatari
Depending on if you watch the Blu-Rays or the stream of the broadcast (available legally from Daisuki.net in the US) this sequence is either used as the OP or ED. SHAFT has always been a little offbeat with its Monogatari OPs, but it is consistent in some respects: the vocalist is always the voice actress of the heroine of the arc and the animation is always symbolic of the story. Rather than just symbolism, the animation for this particular OP/ED really impressed me with its storytelling. The sequence manages to condense an analogue of the whole Hanamonogatari arc (without being spoilery) in a way that only becomes more meaningful after you actually watch the whole story. Many shows opening or ending sequences incorporate elements to this effect (many OP/ED from this very series in fact), but rarely have I seen OP/ED's that hit it out of the park this well narratively.
Audio wise, the band and singer are really killing it in this song, with the abruptness of the breakdown about 30 seconds in being notable. I also find that listening to piano covers of OP/EDs to be quite eye opening. Removing the production and stripping away the vocals of Monogatari OPs in particular, can reveal some real beauty in these compositions:
Well if you enjoyed today's OP/ED then you will love the previous entry (perhaps my favorite OP song from all of Monogatari), Futakotome.
Jonuiuc is an occasional contributor of writing and photography on TAY and AniTAY. You will most likely see him in the comment sections of other author's articles, contributing to collaborations, or doing short posts (like this one) that are light on graphics and even lighter on editing. Jon normally prefers longer hair, but in Kanbaru's case, he may lean towards the short hair version. He doesn't like everything though, he just likes what he likes.
Inspired by the breakdown/bridge of today's OP/ED, the bonus non-anime related song is from one of my favorite female fronted punk/hardcore bands, Tsunami Bomb, it is the rifftastic song: Take the Reins.