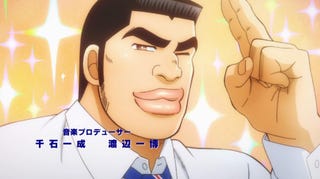 It has been announced that a Live Action FIlm based on the Manga "Ore Monogatari!" (My Love Story) is in the works. Not Much Detailes have been announced so far -not even the cast- but more details will come on the July Issue of Bessatsu Margaret Magazine.
My Love Story! is a Romantic Comedy which centers on Takeo, a Gorila-Like person with a Hearth of Gold and all of his enedeavours with his Best Friend Suna , A Pretty Boy, and his (Soon To Be) Girlfriend Yamato. The Funny thing is that Takeo doesn´t truly understand what the People, and specially Girls, are thinking so he has a a tendence to misinterprethem.
From the side of the fans, there are some guesses on who could interpret Takeo, since he is like 2 Meter tallSome names have come out like: Hideki Matsui, Koji Murofushi, Naoya Ogawa, Shingo Katori, Bob Sapp, Tetsu Inada, Nobuhiko Takada, Takamisakari, Riki Takeuchi, Etc.
While the people in charge of the Movie decides, lets see some good cosplay of the series :P.