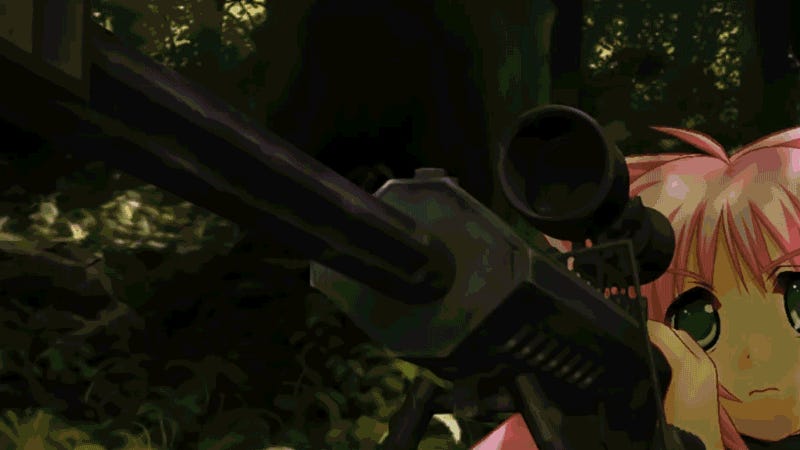 Ah, Muv-Luv. A story of humans being killed by alien things. Unfortunately, this series of visual novels is about as shitty as that premise is boring. But just how bad is it?
Unengaging Enemies
In the later portion of the series (after the high school life suddenly becomes about fighting aliens in mechs), the primary enemy is the unknown alien force referred to as BETA. The BETA are very monolithic and have very little direct involvement with the story. It makes them more of a force than an actual group of opponents. Frankly, this wouldn't have been an issue if the series handled it properly, but for reasons I will get into later this is not the case.
The Harem
Muv-Luv primarily focuses on a male protagonist, who is somehow completely surrounded by female characters. This is a pretty stereotypical harem setting, although I wouldn't say that necessarily makes the games inherently bad. No, what does that is the lack of quality progression between relationships with each of the characters. Very little progression outside of fanservice scenes is to be found, and characters are undeveloped.
Illustrations and Animation
The quality of Muv-Luv's art is mediocre, at best. I wouldn't call the art the worst part of the games (more on the worst parts later), but any positive moments the series might have had were completely wiped out by the art. At times, it doesn't fit the mood, and at other times, it completely destroys it. The aesthetics design and user interface feel clunky, almost like they were cobbled together by a bunch of high schoolers making a visual novel for the first time. I feel like if Ufotable had been pulled in to assist on this it would have been significantly better aesthetically.
There's a Lot of Fanservice
Above and beyond any complaints I might have had about the aesthetic and other artistic elements however is the character designs. As I mentioned earlier, the entire series is extremely reliant on fanservice as the primary way to keep the reader moving along with the virtually non-existent plot. Because of this, the design of the suits in the game are ridiculously revealing. Muv-Luv attempts to justify this by claiming that the suits are an attempt to force soldiers to be comfortable around each other as their bodies are heavily exposed. This justification is merely in-game reasoning to allow for fanservice. There are numerous moments when tension is dissipated because of this addition, and the mood is severely compromised.
People Like It
Another major issue Muv-Luv faces, unfortunately, is an extremely dedicated fanbase. If you're looking to get into the franchise, it can be very difficult to form your own experience because of the way many fans attempt to dictate the dos and don'ts of the series. Additionally, many fans refuse to acknowledge the flaws of the series that inherently exist in any form of media. Overall, this adds to the difficulty in what is already a high barrier of entry.
Writing: It's Just a Glorified Dating Sim
Much like most visual novels in today's industry, Muv-Luv falls into the trap of basically being a dating sim. I could go into detail about how the writing is lackluster in quality due to deus ex machina, hammy scripts, and bogus plot structure, but at the end of the day the writing doesn't really even deserve such an analysis. The entire series, including the later games, are really just dating sims. First, it's a dating sim at a high school, and then it's a dating sim in a post-apocalyptic world... and they even use the same characters! The unoriginality and repetition of ideas is unbelievable.
Characters
If there is one point that can be almost objectively pointed out about the series as inferior outside of the writing, it would definitely be the characters. Muv-Luv, as a dating sim, plays heavily into classic dating sim tropes. This isn't necessarily a problem in and of itself, but at the end of the day I couldn't find myself caring at all about the cast because the series just didn't develop and of them in a meaningful way. Literally every character fit a -dere stereotype, and that summary would be a complete analysis of all the writing had built into the character. When you have an entire cast like this, it's problematic, to say the least.
At Some Point, It Ends
Frankly, there wasn't a whole lot that I really appreciated about Muv-Luv, but fortunately, it does reach a full conclusion that wraps up the plot nicely, assuming you actually enjoy the story. That being said, the combined time required to beat all three games is significantly over 50 hours and you will likely find yourself frustrated about the lost time you are unable to get back.
Muv-Luv is probably very bad. I mean, I wouldn't know because I haven't actually seen it, but the entire series is too long , has too much fanservice, and has very little else working in its favor. I don't recommend it based on the literal zero amount of actual experience I have with it. But for real though, it's coming out in the U.S. soon so you should play it.
A special thanks to Tim/unimplied for the header and Maelwys for searching through The Google for some of the images.
In case you haven't figured it out yet (lol) this is an April Fools' joke. A lot of authors on AniTAY really like Muv-Luv,but I haven't actually played it myself.