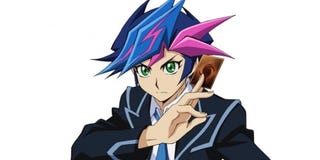 The Duel Monsters goes VR!
In the pages of the newest issue of the Weekly Shonen Jump it has been revealed new details for the newest entry in the Yu-Gi-Oh! Franchise, which has the surname of "VRAINS".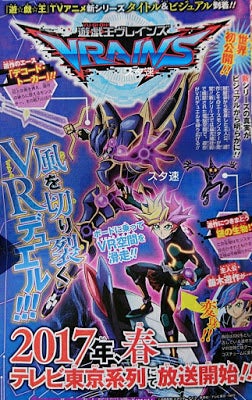 This entry will center in Virtual Reality (or VR, hence the name "VRAINS) where the characters will enter in a virtual world that will recreate virtual scenaries where the characters will fight in Card Duels.
The Main Character of the series is called Yusaku Fujiki and has as his Main Monster Decode Talker. As you can see Fujiki changes his hair and clothes when he is in the virtual world. At the same time what it is know of Fujiki´s character is that he is very reserved, and that´s why he chooses to battle in Virtual Reality rather than going and search for an opponent in public.
The Anime will premier in Spring.
Via: ANMTVLA (Spanish)