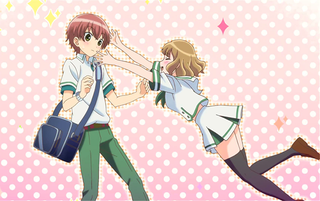 The Romantic Comedy about a stalker Girl and her Dream Boy.
Momokuri Romanceis a web Comic, and The Comico Manga App has streamed a new promo for the afore mentioned title.
Anime News Network describes the story as follows:
"The story of the manga revolves around Yuki Kurihara, a girl who has finally been granted her wish of dating her crush Shinya Momotsuki (Momo). At first glance, she just looks like a normal but very cute girl. However, she is in fact a maniac over Momo, taking notes of his activities and never missing the chance to see him in a cute moment. Momo, on the other hand, is inexperienced in love, and just wants to make Yuki happy."
Yoshimasa Hiraike (Kaleido Star New Wings, AKB0048) is directing the series. the studio behind the work is Satelight (The Disappearence of Bagato Yuki Chan).
The Anime will come this Winter.