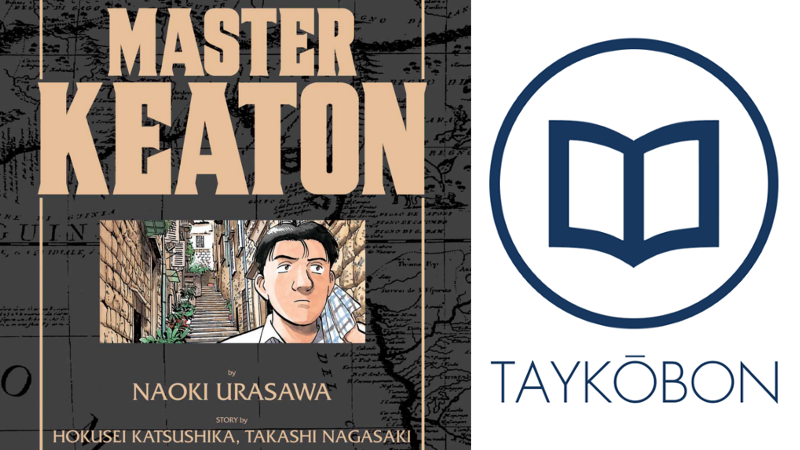 Part-time archaeologist and part-time insurance investigator, Taichi Hiraga-Keaton continually finds himself in the middle of action-packed and danger-filled situations. Putting his skills as a former SAS member to good use throughout his adventures, Keaton can't resist helping a person in need or solving a long-standing mystery in this series by the acclaimed creator of Monster and 20th Century Boys.
The mystery of the Pied Piper in the village of Hamelin has haunted the Roma for many years, providing a basis for the horrendous stigma leading to their genocide in the holocaust. Years later, Keaton investigates this mystery after Roma who escaped Nazi persecution are being killed in West Germany.

In Northern Ireland, a former convicted member of the Irish Republican Army (IRA) is gunned down in the streets after having thought to be involved with further terrorist operations. When a picture clearly showing her body surfaces, all of the newspapers gleefully display it, with the exception of one intrepid editor who believes there is more to the story than meets the eye and refuses to run the picture. With the help of Keaton, the editor attempts to get to the bottom of this mystery and discovers how deep the historical motivations for this murder go.
If you're a fan of world history and archaeology at all, you'll enjoy this informative and entertaining series.
Master Keaton's signature blend of archaeology, history and mystery continue as this volume delivers another great series of stories following Keaton's adventures across the globe. For the uninitiated, these stories frequently involve Keaton being called in as an insurance investigator to resolve various situations relating to archaeology. These mysteries are never as simple as they seem and as you might expect, they frequently involve sinister parties threatening people or precious relics. However, Keaton is well-equipped to handle these challenges thanks to his previous training as part of the Great Britain's Special-Air-Service (SAS), making him more than a match for anyone who comes his way.
The most obvious comparison to Keaton's unique set of traits might be Indiana Jones, and undeniably Keaton's adventures are reminiscent of that famous movie franchise. However, what sets Master Keaton apart is its unique focus on the archaeological and historical aspect of its stories, which are never set aside to get to the action. I'm genuinely fascinated each time I read this series thanks to the wide range of historical content integrated within. This volume is no different, delving into the history of the European Roma as well as the fighting in Northern Ireland between the IRA and the English government in an manner that is both informative and entertaining. It is obvious that Urasawa and his co-authors continue to put a great amount of research into the subject matter featured and this pays off as I really appreciated the historical tidbits I was able to learn over the course of this volume.
While longer and more elaborate stories such as the ones I detailed above are a significant component of this volume, Urasawa and co. do a wonderful job with some of the smaller, one chapter stories. If the longer stories are the meat of the series, the shorter stories are its heart as they manage to draw out a personal side of the various characters Keaton encounters while remaining true to the diverse historical narratives presented. A particular highlight for me was a chapter showing Keaton's struggle to find a taxi, which subsequently turns into him helping the taxi driver resolve a false accusation from a car accident they witness. I won't spoil it, but this chapter is an excellent example of the profound sense of heart that this series has, create a personal yet historically connected story that was very enjoyable to read.
For those familiar with other series by Urasawa, it won't come as a surprise that his art is absolutely fantastic. I'm continually amazed by the amount of detail he is able to add to his backgrounds, and this complements the wide variety of setting featured in this volume extremely well. From the streets of London to the countryside of Ireland, Urasawa continues to portray settings excellently, creating a great sense of presence which is key since they are such a vital component of the historical narrative. Additionally, the expressions of his characters are exceptionally expressive, effectively showing rather than telling in a masterful manner that other mangaka have difficulty matching.
The main drawbacks of Master Keaton as a series continue to be the lack of an overarching story, with this volume doing nothing to really change this. If you are hoping for a sweeping narrative in the vein of Urasawa's other series, you may be disappointed but Master Keaton continues to work well in its established format of self-contained stories. With specific regard to this volume, I found the action to be a little bit lacking in comparison to what the series has displayed so far as action scenes were not as numerous as they have been to this point. While it might be argued that the stories in this volume simply didn't allow for them, I would have liked if Urasawa could have integrated this with more regularity to break up the proceedings a little bit.
Master Keaton continues to proceed reliably in this volume, delivering more of the compelling historical mysteries that have defined this series so far. I would say on the whole that I preferred the set of stories featured in volume 3 more than this one, but this volume is still an excellent example of the attention to detail Urasawa includes which allows him to craft such a genuinely interesting and unique series.
Master Keaton Vol. 4 was published by Viz Media on September 15th, 2015 and covers volumes 7 and 8 of the series. Authored by Naoki Urasawa and based on the story written by Hokusei Katsushika and Takashi Nagasaki, the series is ran from 1988-1994 in Shogakukan's Big Comic Original magazine. Volume 5 is scheduled to be released in English on December 15th, 2015.
For more reviews, keep an eye on Taykobon, your home for reviews of manga and light novels. You can also follow us on twitter @taykobon for more updates! If you've read this work or have any questions or comments, we would love the hear from you in the comments below!
*Copy provided for Taykobon by publisher.
If you enjoyed this review, you make like these reviews as well: