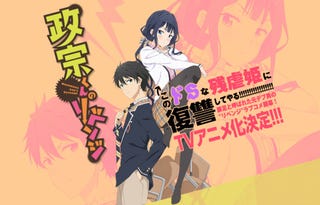 Romantic Comedy about a guy who in his childhood was bullied by a girl.
The publish Company Ichijinsa has launched a webpage where it got announced that the Manga "Masamune-Kun´s Revenge" will get an Anime adaptation.
Most of the details are still unknown.
Seven Seas is publishing the manga and describes the history as follows:
"As an overweight child, Makabe Masamune was mercilessly teased and bullied by one particular girl, Adagaki Aki. Determined to one day exact his revenge upon her, Makabe begins a rigorous regimen of self-improvement and personal transformation.
Years later, Masamune re-emerges as a new man. Handsome, popular, with perfect grades and good at sports, Masamune-kun transfers to Aki's school, and is unrecognizable to her. Now, Masamune-kun is ready to confront the girl who bullied him so many years ago and humiliate her at last. But will revenge be as sweet as he thought?"
Via: Anime News Network