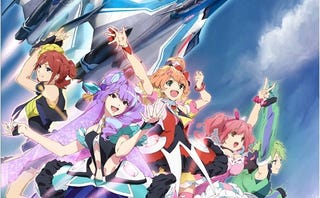 It has sold more than 35,000 copies and their first Mini-Concert was a success.
Macross Delta is the newes entry on the Macross Franchise, and it features a new Idol Group called "Walkure" and their first single to come"Ichido Dake no Koi Nara/Run ga Pikatto Hikattara"has made them being on the Top 5 on the music Charts in Japan.
While Macross Delta Walkure are Anime Characters, the real girls are:

-JUNNA (Mikumo).
-Minori Suzuki (Freyja)
-Kiyono Yasuno (Kaname)
-Nozomi Nishida (Makina)
-Nao Toyama (Reina)
With the excepction of JUNNA, all the other singers are also the voice actress for their characters.
The Mini-Concert that also included a "Soft high-Five" event was also a succes.
The Group will have events in Osaka and Nagoya in August and in Tokyo in September with more dates to be revealed at May 22.
You can talk about the Anime of Macross Delta in any of those Articles (or on the next one in 3 weeks more or less :P)
Via: Anime News Network