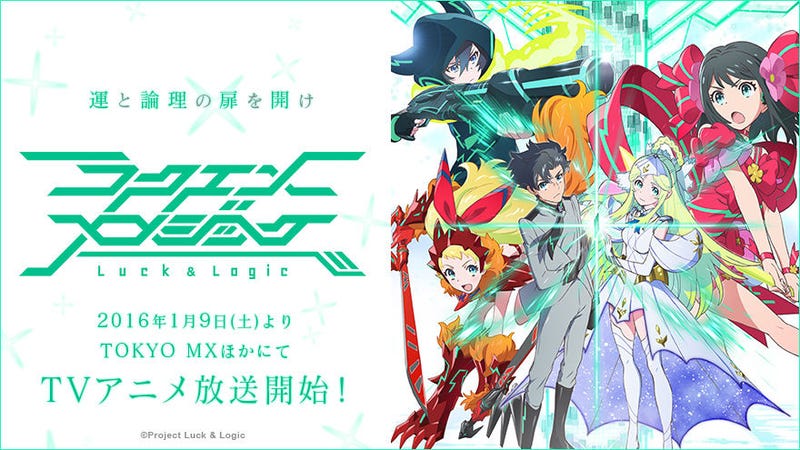 It will join to Buddyfight and Cardfight!! Vanguard on Bushiroad´s Cards anime Catalogue.
Bushiroad has announced a new anime and Card Game called Luck and Logic, the Anime will come on January and the Card game on February of 2016.
The Website describes the story as follows:
In L.C. 922, people faced a sudden crisis.

In Tetra Heaven, the land of legend, a hundred years of war had come to a close. The gods who lost the war searched for a new place to live, and found it in Septpia, the human world, which they proceeded to attack. The Logicalists attached to ALCA, a special police agency whose duty it was to protect cities from assaults by foreigners (angels), were compelled to act in defense of cities, whether they wished to or not.

And depending on their ability, Logicalists could initiate trance with goddesses from the other world, and stand a fighting chance on the battlefield.

A civilian named Yoshichika Tsurugi, who lacked "Logic" and lived happily with his family, was caught up in an attack, and took shelter along with many people. He meets a beautiful goddess named Athena. In her hands, she had the "Logic" that Yoshichika lacked. Now both Yoshichika and Athena head to their destiny.
The Staff is integrated by the next people.
Directors: Koichi Chigira (Full Metal Panic!) and Takashi Naoya (Selector Infected WIXXOS, A certain Scientific Railgun S).
Original Idea and Composition: Yuuya Takahashi (Lupin III 2015 Ver.)
Character and Concept Designer: Mari Shimazaki (Bayonetta -The videogame, not the movie-)
Anime Character Design: Rei Aoi (The Girl who leapt through time) and Katsuhiro Kumagai (Witch Craft Works, Selector Spread WIXXOS).
Creature Design: Kenji Andou (Karas, The Rage of the Bahamut)
Mechanical Design: Hiroshi Tani (Plastic Memories) and Makoto Kobayashi (Space Battleship Yamato 2199)
Music Composition: Tatsuya Kayou (Comet Lucifer).
The Staff is looking good, if you ask me, i am interested i have to say!
Via: Anime News Network.