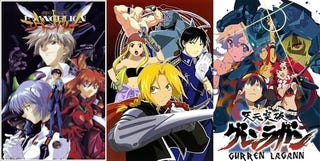 So the good lad jonuiuc began collecting figures(oh the fool......) and shared their collection and asked for people to share their own collections.
The problem is my collection is, well, quite large, and a few pics in a single comment thread wouldn't do it justice, imo. So I decided to make a separate post to show off my collection. Actually this has been something I've been wanting to do for a while now, so yay for me getting off my ass! Keep in mind, this is not my full collection. My full collection(to simplify things, my "collection" are the figures I have on display, I have several more figures just scattered about, and these are just the figures, I'm not counting my plush toys.....which is also a decent sized lot) is 142 figures of various sizes.
These are just the highlights and to make things easier, they are grouped together by series. Also, few things to keep in mind; 1) All these pics are taken with my iPhone, 2) the "background" is a crappy thing made from gift box scraps I had laying around, and 3) my room is, like insanely dusty, so.....yeah, many figures have some dust on them(I tried cleaning some of them off as best as I could.....-_-). So with all that in mind, let's get started!
Vocaloid
First up is one of my big figures(a whopping 1/7 scale(O_o)), the Megurine Luka Tony version figure from Max Factory. What you can't see in this pic is she has a golden handheld mic in her right hand. Also her dress can be removed....for some reason.
Next is this trio of Vocaloid Nendoroid Petit blind box figures. Got regular versions of MEIKO and Kagamine Len and a special version of the main girl herself, Hatsune Miku.
This is a Figma for the animated series version of Black Rock Shooter. She's not a Vocaloid herself, but she's still here because the song that created her was a Vocaloid song. And yes, she's so complex in her full display form that she comes with two stands, one specifically for her cannon. I actually had to dig up her box and get her cannon, its stand, and the head she's sporting in this pic. Due to limited space, I normally display her with just her sword and hooded head. But I went all out for you guys. ;-)
Another pic so you can get a different look at her, this is actually how she's currently being displayed right now(I couldn't be assed to swap her head again.....).
Persona
Aigis Figma. She was actually kind of pain, because some of her hands refuse to stay on.....so thus the combination you see. Also, she's my only P3 figure. The rest are all P4-related.
Not a character per se, but rather a Persona! Yukiko Amagi's starting Persona, Konohana Sakuya, to be exact. This is a D-Arts figure, actually. The only one I have.......and damn was she a pain to pose......moving any of her flower petal...wing...things.... would cause another one to pop off. :-\
Petanko figures of Rise Kujikawa and Yu Narukami! Complete with glasses! I love and hate these cuties. Love them cause they are cute as hell! Hate them cause their glasses refuse to stay on(mainly Rise's), and they both love to fall over at the slightest touch.....
Neon Genesis Evangelion
Injured Rei figure. Mainly got it because it came with a lot of swappable parts.
Aphrodite Rei and Asuka figures. Some of the oldest figures I have.
Vincent Valentine from Final Fantasy VII?! What's he doing here? Well, mainly because, again due to space limitations, he is usually displayed with the Aphrodite figures. Like so:
You lucky dog.....
Blind box figures of EVA Unit 01 and EVA Unit 02. I like to display them like this cause it looks like they are fighting.
Blind box figures of Asuka and Kaji. It was pure coincidence that I got these two.
Genshiken
I love Genshiken. One of my favorite series around. These are figures of Kasukabe Saki and Kanako Ohno cosplaying. I want to complete the leading lady trio and get the figure of Chika Ogiue cosplaying, but it's so damned expensive. T_T
I don't know who this character is, I just know she's from the series within a series Kujibiki Unbalance. Got her in a blind ball.
DC Comics
Poison Ivy Bishoujo figure from Kotobukiya. Currently the centerpiece of my collection. Insanely detailed and well painted.
These three are from DC's line of Ame-Comi figures, essentially bishoujo versions of DC characters. These three are Harley Quinn, Wonder Woman, and Cheetah.
Gurren Lagann
This version of Yoko is based on one of the many, many outfits she wears in an animated music video.
Yoko, Nia, and Boota in the Panty & Stocking art style. Damn good figures, especially considering their low price.
Tenjou Tenge
Funny thing, I didn't intentionally buy a single one of these. I got all 5 of them, all figures of the character Maya, btw, via grab bags at conventions over the years. Two on the right end are actually, and I kid you not, bobble boob figures. Well ok, the one on the very end only the clothes in front of her boobs bobble, but the one next to her? Total bobble boobs. I had a good long laugh when I actually got that figure. I remember my reaction being, "Holy crap, it comes with Gainaxing action!"
Cyborg 009
These three figures were an absolute steal. They were blind boxes I paid $4 for each. They are incredibly high quality for blind box figures. In all I actually have 5 of the Cyborgs. The middle and left ones having two of them on them.
Bleach
Ah, these were two of the first figures I had. Back when I was hardcore into my Bleach phase and when Bleach was, well....actually good. Even now Urahara(who btw holds a special place in my heart as being the first character I ever cosplayed) and Aizen remain my two favorite characters in the series.
Nintendo
Legend of Zelda blind balls that GameStop sold. I am happy with them. Mainly Petra and Toon Link, cause Wind Waker is one of my favorite Zelda games(I dare say my favorite 3D Zelda).
Ah......remember when Club Nintendo prizes were this badass? Those were the days.....one of the few figures in my collection I didn't actually buy.
Capcom
Mixture of new and old. The Morrigan figure I got a loooooong time ago, definitely amongst one of the first I got. The Zangief and Akuma figures I got a few months ago.
Fullmetal Alchemist
Blind box figures. The Edward one is really, really damn detailed. Like you can see the wires and the bolts in his arm.
Now I called my Poison Ivy figure my centerpiece, but this set is what I'm actually the proudest of. They are great quality. Plus they are actually scaled to each other! Also, I bought all three at a con for $45, $15 each. $45 is closer to what each one sells for nowadays. This is one hell of a deal. And of course with FMA being my favorite franchise, they get more weight put behind them. Speaking of weight, I legit think I could kill someone with Alphonse......
Misc.
First, something to make Dex happy, an F-15E Strike Eagle from Muv-Luv. Unfortunately, do to some mistakes on my part, it is missing a few pieces. Model building can be a pain sometimes....
Another of my early figures, Haruhi Suzumiya in a sundress. Not the only Haruhi figure I have. The other is a blind box figure what I lose the support stick to, so over the years she has been pulled forward by gravity.
Izumi Konata in a school swimsuit. Another one I didn't actually buy. I won it from a drawing done by one of the artist alley booths at my local anime con two years ago. Also won a three day pass to the con the following year for winning the drawing. Really good figure, too.
I wanted the more fancy Kurisu from Kotobukiya, but it costs so much. Anyways, I bought this immediatedly after finishing Steins;Gate with the Ani-Club earlier in the year. Still, not bad for its price. Still wan the Kotobukiya Kurisu, though.
This Fujiko Mine figure I got in a grab bag. She's actually supposed to be laid flat on her back. Her dress is actually made of fabric, and can be removed if you so choose. I prefer her with her clothes on, though.
Motoko Kusanagi. What else can I say? It's the Major!
This blind box figure of Asuna from Negima! is easily one of the earliest figures I have. I wanted the Nodoka figure in the set, though. >_>
It's Mechagodzilla.......I bought it after seeing Godzilla 2014......
This tiny figure(and it is tiny) is of Kei Kurono from Gantz. Actually kind of feel ripped off on this one, cause it cost me over $20.....>_>
This Alucard figure is also small, but is still pretty sweet, especially since it is surprisingly detailed for its size.
And last, but oh most certainly not least......
Hentai Woody? Hentai Woody. Seriously, I had to grab it up when I saw they reprinted the version with the infamous hentai face.
And there you go. Like I said this is just part of my collection. Rather the part I thought would be nice enough to see. And of course my collection will still grow. I already have Nendoroids of Iona from Arpeggio of Blue Steel, Miss Monocrhome, Satsuki Kiryuin from Kill la Kill, and Nico Yazawa from Love Live all on pre-order, and my local con happens Halloween weekend, were I aim to grab some more figures.
P.S. - Take a good look, jonuiuc. This is what you are in for (I kid, this took me over 8 years to amass). :P