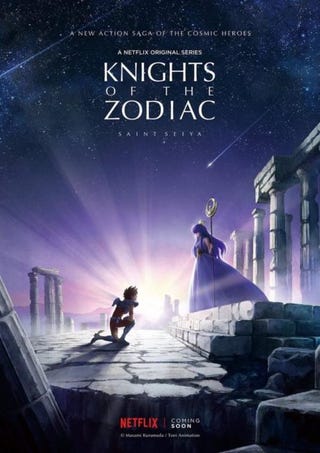 The newest adaptation of a clasic!
Netflix has revealed that a 3D CGI anime adaptation based on Masami Kurumada´s Manga: "Saint Seiya" is being worked on. The anime has the approval of Toei entertainment.
The anime will be a mix of both Japanese and Western talents and will cover the start of the series (The Galaxian wars) until the Silver Saints fight.
The Staff is as follows:
Original Creator: Masami Kurumada
Series Director: Yoshiharu Ashino (D-Gray Man Hallow)
Story Editor & Head Writer : Eugene Son (Avengers: Secret Wars)
Screenplay: Benjamin Townsend (Thunderbirds are Go), Shannon Eric Denton (Avengers: Secret Wars), Thomas F. Zahler (Ultimate Spider-Man), Joelle Sellner (Ben 10:Omniverse), Travis Donnelly (Bull), Thomas Pugsley (Ben 10), Saundra Hall (Teenage Mutant Ninja Turtles), Shaene Siders (Avengers: Secret Wars), Patrick Rieger (Justice League Action) & others
Character Design: Terumi Nishii
Knight Design: Takashi Okazaki
Animation Studio: Toei Animation
The Anime story centers on the Saints, warriors who can crack the earth with their kicks and tear the heavens with their fists, they do this exploding the Universe inside of them called Cosmo. One of those Saints is Seiya, the Pegasus Saint, has entered in the Galaxian Wars in order to be seen for his Long Lost Sister Seika and therefore be joined with her. Little did he know and the other Saints that this was just a plot in order to lure out a darkness inside Greece that tries to kill a Goddess and conquer the world!
Via: Universo Saint Seiya (Spanish)