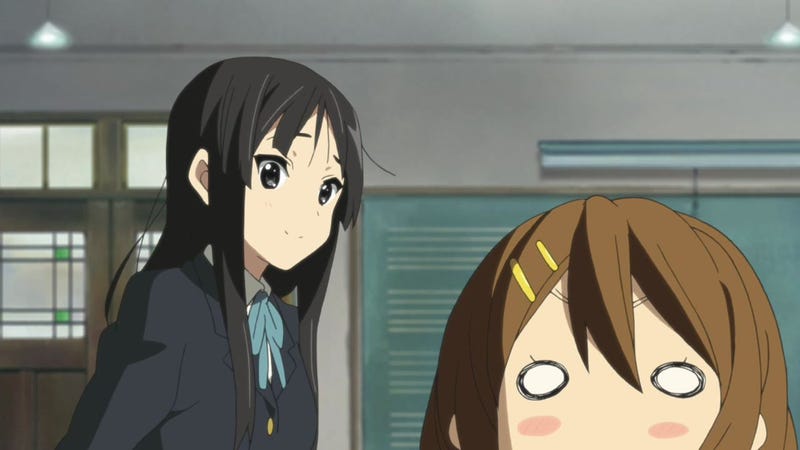 I love K-On! more than the average man in my line of work- an episode or two never fails to put me in a great mood. Whenever my friends are looking for a good show to leave on in the background or just decompress, you'd be hard pressed to find something that does the trick better than the show following Yui Hirasawa and her club-mates. It is one of the favorites in my household, with my mother (happy belated birthday to Mother Mayushi, the AniMom by the way!) doing the series well by informing me that she was basically Yui in high school and that if she had a daughter instead of a son, she probably would have been a carbon copy of her (joke's on her though, because I still draw the comparisons). A bulk of my lunch breaks are spent messaging AniTAY writer and fellow K-On! enthusiast devinreal screenshots from a Twitter account that posts every single frame from every single episode of the series, ten minutes at a time (it is incredible to see just how much you can apply the hundreds of screencaps into everyday life and conversation).
I found myself wondering what makes the series age so well as I watched the K-On! film recently. I understand for many fans it simply comes down to "cute girls doing cute things", but that was the furthest thing from the appeal to me. Be it the perfect soundtrack or the ease of dropping in and out of episodes, there is a certain mystique that the series brings me- seeing a tweet about the show fills me up with that feeling "Oh, that's K-On!" accompanied by a hum or a little dance move. Maybe the feeling isn't there for many, but I never expected this show to be the one that would have such importance for me without some super deep or profound meaning.
Indeed, the biggest appeal to the antics of the Light Music Club is how there isn't much to what is going on, yet there is plenty to enjoy. In many regards, this embodies the genre of Slice of Life in the purest form. The viewer is simply a fly on the wall and the events unfold in a very organic way that manages to escape the boring lulls that others in the genre tend to veer off into. A disappointing trend in Slice of Life is that things try to be as grounded as possible and end up being so down to Earth that it actually becomes dull and boring. Doing so is a disservice to the "Life" in the name of the form of series- there needs to be lively conversation and diverse actions between individuals to feel right. This teeters into a big complaint for K-On! in that the girls can be a little too rowdy for the own good of the series, but that is just how things go in small groups of active minds. Sure, a viewer might not have direct experience with a group that had the same dynamic as the Light Music Club, but that doesn't make it any less accurate- only less relatable.
It is such a great detour in trying times to take a breath of fresh air and go to something that is comforting...for me that is watching K-On! and doing some meditation afterwards. No, it isn't this season's hot anime I should be watching instead of episodes I've seen four or five times nor is it a revolutionary series that will universally be at the top of MAL. It has some uncomfortable people lurking around in the fanbase, and the entire premise couldn't be any bolder of an example of the gambling term "put it all on black". My affinity for the series might lead into the bearish replies or (unfortunately) the least read articles I have ever written. With all of that said though, there is a chance for viewers to strike gold here or, at the very least, recognize that this is indeed one of the best examples for Slice of Life around.
---
What is your favorite genre of anime? Do you have a go-to show? Let me know! AS ALWAYS, I hope all of my readers are doing well and that you all have a fantastic day~!
Follow me on Twitter @DilKokoro for updates and discussion on anime- my DMs are always open so if I somehow miss you following me, don't be discouraged that I don't follow you back right away. I almost always get back to people who DM me to talk- I love a good chat.