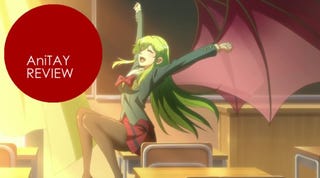 Keeping a secret is hard. When the secret is your crush is half-vampire - it's even harder. In Jitsu wa Watashi wa (aka My Monster Secret) high-school student Kuromine Asahi winds up in charge of keeping a lot of weird secrets, including an alien's secret, a perverted werewolf's secret, and even a demon's secret. It's Asahi's constant secret keeping that turns his life into a crazy, romantic comedy of errors into an anime worth watching.
A Romantic Comedy that goes against the tropes/clichés
The main source of romance and comedy in "Jitsu wa..." comes from Asahi's relationship with three girls: His crush, Youko, whose cool and distant behavior that made her the class's "cool beauty" are actually the result of her hiding her half vampire nature from regular humans; the "real" Youko is actually an amiable, cheerful girl and also quite air-headed and clueless when it comes to friendship and social interaction, as she's been home raised for most of her life, and hiding her vampire heritage has made her avoid developing any friendships. Then there is Nagisa, the stern and no-nonsense class representative, who is actually an exploratory scout of an humanoid alien race just a few inches tall who pilots a human sized robotic replica of her body. Finally we have Mikan, Asahi's childhood friend and the self proclaimed "evil gossip queen" of the school, who runs the school's newspaper in order to spread gossip and air people's secrets, yet her feelings for Asahi and her real, kind nature that she keeps hidden from everyone have caused for her glasses (a childhood present from Asahi) to be possessed by a minor God of Fortune, whose mission to make Mikan's life better brings her nothing but trouble.
While your typical romantic comedy anime would probably go the Harem route or depict an all out war between the girls,"Jitsu wa..." handles things quite differently and in a very mature way for a supernatural romantic comedy; for starters, the series makes it clear that Asahi is only in love with Youko; even more rare is the fact that Youko, Nagisa and Mikan never sabotage the other girls or act maliciously against each other despite having the same romantic feelings for Asahi, which leads to a romantic comedy that never feels mean spirited or resorts to showing characters acting petty or immorally because they are in love, and the fact that a harem situation never comes into play makes the series even better and feel more real than it should be, given its premise; in essence, even if there's a supernatural element to the series, it's characters feel like real teenagers who deal with their feelings and the crazy situations those feelings get them all in together as people inexperienced in love would, with every situation getting even more hilarious and weirder as everyone ends up misinterpreting the situation or acting on impulse because of overflowing emotions.

Supernatural beings, Real characters
The above breaking of the cliched characterizations of the rom-com genre is also a result of excellent characterization and development of the main cast; a perfect example of this is Nagisa's slow realization of her developing feelings for Asahi, and the conflict it brings to her, as Asahi and Youko are essentially the first people in the planet that she has opened up to and have accepted her as a friend; Nagisa sees her feelings for Asahi as a betrayal of the friendship she holds with him and Youko, which leads to a powerful (but still pretty funny) inner conflict. Same goes for Mikan, as her reluctance to admit her feelings, both to Asahi and herself, have lead her to develop her "evil queen" persona, preferring to remain childhood friends with Asahi, instead of risking losing him forever to a confession of love. Finally, even the scatter-brained Youko is conflicted when it comes to her feelings, as her constant attempts at pairing Asahi with Nagisa end up causing her to face her own true feelings for her male friend, and also develop feelings of guilt over betraying the trust Nagisa has placed in her by being her friend; while these inner conflicts aren't as seriously developed or focused on as they would in a drama series, their presence on a romantic comedy makes "Jitsu Wa..." feel more realistic and emotional despite its supernatural and gag elements, which only adds to the series charm.
A risky adaptation approach that pays off

When it came to adapting "Jitsu Wa..." from its still running strong manga series, the team at TMS Entertainment took a risky approach to the task, by picking and mixing different chapters of the manga and adapting them together in a single episode, usually under a common theme or narrative chain; this could easily be a recipe for disaster, but thanks to the small continuity changes and the well balanced source material, it results into an adaptation that flows better for quicker character development AND allows the anime to bring to life some of the best and most memorable moments of the manga, despite being just 13 episodes long, something that fans of the original material can clearly appreciate; even the open ended finale, while taking an original approach initially, ends up referencing and showcasing moments from the original manga.

Another risky choice was the series overall art-style, as it initially comes as far too different and blander when compared to the original manga, which has one of it main strenght's being its stylized and over detailed character expressions during gags, reaction shots and so on; realistically, even some of the best anime studios out there wouldn't be able to do justice to the manga's quality and detail, specially on a 13 episode series budget, so the animation team wisely choose to leave the more detailed and faithful character expressions as part of memorable moments or gags, which only results on these standing out even more and making the overal scenes that feature them even funnier. It may not be a perfect use of the original material, but its a compromise that works and sometimes even enhances the comedy on the screen.

A Female Pervert character
"Jitsu Wa..." avoids fanservice for the most part, with one exception: the character of Shiho, Youko's childhood female friend who is not only a werewolf (whose transformation is actually a male, beastly punk with a completely different name/personality), but more importantly, a proud and open "Absolute Pervert", who delights in using her sex appeal, tease others and pretty much has a fetishistic personality that could only be described as Omni-sexual. While Shiho easily earns her title as the series "Ms. Fanservice", the fact that she is so damn open and proud of her sexuality and erotic persona makes her a rather strange character that might seem off-putting or annoying to some viewers; personally I think she's a scene stealer, mainly because the fact that she is always in complete control of her actions and utterly proud of them and her nature, makes her feel far less exploitative than her character should be, but some viewers might feel conflicted about her lacking some depth to her character, even if she brings a lot of hilarity and subversion of standards to the series.
Akane the demonic Troll
If there is one character in "Jitsu Wa..." that can probably divide the audience, its probable Akane; a thousands year old demon with the appearance of a young high school girl, Akane is the principal of Asahi and the gang's school, and because of her mischievous and downright trolling nature, a main source of a lot of the comedic chaos in the series, as she uses her near god-like power to wreck havoc on her student's lives, sometimes just for the fun of it, sometimes in order to help them and always because she wants to make every situation escalate (even if this usually ends with her getting payback for her action in the form of her descendant Akari, the gang's long suffering and take no crap homeroom teacher) until the accumulated chaos either explodes or resolves itself; Akane is pretty much the series "Deus Ex Machina" when it comes to advancing the plot or making a comedic series of events escalate, and while her role in the story and action fits her to a T, some viewers might get a bit annoyed by her having so much say and control of the action, hilarious as the consequences of her meddling might be.

The curse of the short adaptation
While "Jitsu Wa..." succeeds into adapting the manga its based on for the screen, as a fan and follower of the manga, I am well familiarized with the sheer volume of the original material (12 volumes so far) and the plot developments that have taken place in those, and seeing the anime adaptation go for a semi original open ending because of it being just 13 episodes long actually ends up being hugely disappointing, even if its already a granted wish that the series was even adapted in the first place; however, because the manga takes the relationships and character development so much further and diverts even more from the traditions of the rom-com genre, and while the series ended up having a more open ending that invites the rather long shot possibility of a sequel or second season, it will still feel like a huge disappointment to fans of the manga who know how much more development the plot and characters get; while perfectly fine on its own merits, "Jitsu Wa..." still feels like its ending comes far to abruptly, and just as the story and its characters were just getting started in terms of development; even if its a common problem/disappointment with the Anime industry and short adaptations as a whole, it still feels like a sore issue, both for fans of the manga and newcomers that will easily feel disappointment for a story that felt like it was just getting started to end so abruptly when it could had original material for several more episodes of madcap, romantic fun.

"Jitsu Wa..." is a series that gives a fresh and charming new spin to the supernatural rom-com, by featuring crazy comedic situations and characters with actually reasonable and realistic character development, which results into a much more original and entertaining genre series that neither takes its audience or characters for granted, and also works as an adaptation that goes beyond the norm or the easy path in order to (mostly) satisfy the fans of the original material. It may not be perfect or for everyone given how it deviates from genre tropes/clichés, but if you long for a supernatural romantic comedy that actually gives some thought and time to its character relationships, while remaining true to the funny and sweetness the genre is cable of and known for, "Jitsu Wa..." might end up surprising you in all the right ways.