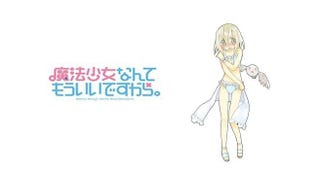 The Comedy Manga about a Girl who becomes magical Girl against her will.
It has been announced that an Anime adaptation of the afore mentioned Online Manga is in the works.
Kazuhiro Yoneda (Yona of the Dawn) is the Director of the series. Pine Jam is the Studio behind it. Kazuyuki Fudeyasu (Monster Musume) is the one in charge of the script.
Anime News Network describes the Story as follows:
The comedy manga follows Yuzuka Hanami, a young girl who has few friends but who can do anything. One day, Yuzuka gets accosted by a strange creature named Miton who is digging through a trash dump. Miton tells Yuzuka, "you have the makings of a magical girl" and seems extremely suspicious. When Yuzuka is suddenly transformed into a magical girl, she's wearing a bathing suit.
The Anime will come on Early 2016.
Via: AnimeNewsNetwork