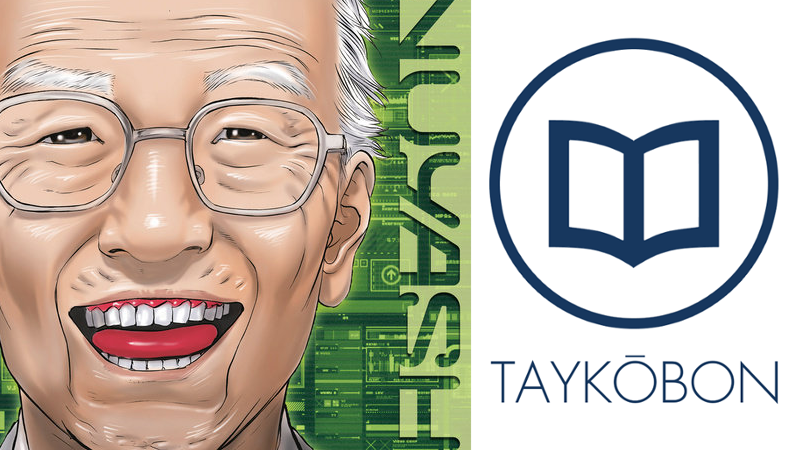 Looked down upon as a pathetic old man for his appearance and disrespected by his family, it seems like things will never get better for Ichiro Inuyashiki. Things change after he is struck by a blinding white light and he wakes up to find out that he has the power to take back his life and be a hero in this new series by the author of Gantz.
Ichiro Inuyashiki lives a sad life - thanks to his old appearance and his lack of confidence, he is looked down upon by his own family despite all he's done to support them. Things only get worse when he is informed that he has stomach cancer, causing him to evaluate if anyone would blink an eye if he died. Stops on a hill in a nearby park to look at the stars while walking home, a bright white light hits him. When he wakes up, he finds that there's something pretty different about himself and that being reconstructed as a cyborg just might give him the power to truly feel human for the first time.
Readers for a dark yet action packed story will likely want to give Inuyashiki a read. As Toshi Nakamura from Kotaku puts it: "Take Gantz, add the premise of Breaking Bad, and you've got Inuyashiki".
Let's get this out of the way right off the bat: Inuyashiki is not a happy manga. In fact, it's almost a complete subversion of the archetypal shonen manga, and if you're a fan of Shonen Jump you'll find some interesting parallels here. You've probably heard this story line before: plucky hero gains power thanks to their perseverance, defeating their foes confidently and winning the day in a story filled with optimism. Inuyashiki thrives as a darker turn on this, as this story follows a depressed and beaten-down old man as he reluctantly realizes his new found potential to make the world a little less rotten. Of particular note is that cause of many of these problems are youth - Ichiro's children are ungrateful and downright mean to him, teenagers on the subway challenge him to fights and gangs of youth attack homeless people in the park. It's a stark and depressing picture that is used to great effectiveness as a compelling contrast to the optimistic light youth is often portrayed with in this type of story line.
I have to give author Hiroya Oku (of Gantz fame) props here for introducing in Ichiro one of the most unconventional protagonists you'll ever see. Ichiro is the inversion of your typical Shonen Jump protagonist, as instead of embodying the archetypal optimistic, youthful and confident protagonist, he's old, cowardly and a bit pathetic. Looked down upon by strangers and shunned by his own family, Ichiro's situation is utterly depressing and heart breaking to see making for an unconventional story. Ichiro's situation is established right away: he's a big pushover who hates the way he's treated by his wife and kids but has can't do anything about it. After being told he has a limited time to live thanks to a diagnosis with stomach cancer, Ichiro starts cooking meth resigns to die, wondering if anyone will care.
Oku portrays the depressing banality of Ichiro's existence in a startlingly effective manner, and I felt that the representation of his continually building sense of helplessness and anger at the world over the course of the first half established his character well. This creates a very well-done beginning to Ichiro's character arc that continues throughout the volume as we see him slowly develop slightly more resolve. I found myself almost cheering for Ichiro almost out of pity at first, with his later escapades in saving people feeling distinctly in character and set up well for future volumes. I particularly enjoyed the moment of realization that Ichiro has when he realizes that his newfound power has the potential to make him feel more human than his old life ever did. After finally getting a little bit of comeuppance this added an excellent punctuation point to his character development in this volume, tying together this volume's dual themes of depression and agency in one satisfying realization.
Another highlight of this volume was the way that Oku's artwork helped accentuate the dark yet mundane nature of Inuyashiki's world. The art is suffused with a copious amount of detail to give a distinctly realistic feel, making all of the darker moments hit home that much more. This extends to the character designs, which fit this world very well to the extent they accentuate the overall bleakness of the setting. Characters are drawn realistically, but most notably to me all of the characters are drawn with eyes that feel "dead" to some extent. This does a great job of showing the disaffected state of many of these people, and creates an excellent contrast when Ichiro finally starts to feel alive for the first time as this is finally shown in his eyes. The art was a strong point of this book and I'm exciting to see how it develops as the series moves along.
Inuyashiki is not a happy manga in any sense of the word, spinning an unsettling yet somewhat heartwarming story about one old man receiving the power to challenge his helpless and bleak state of existence. An unconventional take on a conventional story arc, Inuyashiki is well-drawn and depicts series themes in an impressive manner that manga fans will be sure to appreciate.
Inuyashiki Vol. 1 was published by Kodansha Comics USA on August 25th, 2015 and covers chapters 1-8 of the series. Authored by Hiroya Oku, the series is currently ongoing in Kodansha's Evening magazine. Volume 2 is scheduled to be released in English on November 24th, 2015.
You can check out our review of Vol. 2 right here!
---
We're Taykobon, your home for reviews of manga and light novels. Be sure to follow us on twitter @taykobon for more updates and to get the latest happenings! We strive to provide timely coverage of manga and light novel releases, for a listing of every review we've written you can check here. For more info about Taykobon, please check here. If you've read this work or have any questions or comments, we would love the hear from you in the comments below!

*Copy provided for Taykobon by publisher.
If you enjoyed this review, you may like these reviews as well: