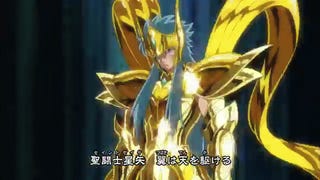 Greetings!. Im ShadowHaken , and this is the place were i will be talking about any new chapter of any Manga/Anime that Im reading or watching . Oh Also:

Disclaimer: English is Not my Native Languaje so, sorry in Advance for anything that is bad written or completely incomprehensible.
You can Check the past Entry Here.
Chapter 13: Let our Prayers be Heard! The Eternal Golden Legend!
The Chapter starts with the return of the 12 Gold Saints, and they are here in order to kick Loki´s Butt!

They also won´t let Loki uses the Gungnir Spear! So Our Saints go to the Attack!
Deathmask and Aphrodite are talking, while running, that Deathmask is sorry for couldn´t save him on the town. Aphrodite basically says that is no biggie.
Both of them attack Loki, but Loki crushes their attack!
Camus and Milo, Camus tried to apologize to Milo, but he stops him saying him if he accomplished his mission? Camus said that he believes the soul of his friend is now resting in peace. Milo says that if that´s the case, there is no need to say anything. So now it is time to attack!
Both of them attack Loki, But Loki Crushes their attack!
Loki attacks them but Mu come sin and protect them with his Crystal Wall Technique!
Now both Mu and Shaka will attack with their techniques!
Loki Crushes their attack!
Loki says that this is useless, their attacks won´t hurt him, no matter what they do! Loki raises a huge rock and throws at them!
Shura tear it apart with his Excalibur technique!
Now both Aioria and Shura will attack the False God! Loki repels the attack and counters them! Aldebaran and Dohko comes in and save them!
Both of them will attack Loki Now! But Loki avoids it!
Now Aioros and Saga will face the False God! Saga says that they may even had their differences in the past , so much that he had never expected to face him here on this place.
Aioros responds to him telling him that Saga must had a rough path, even after death, Saga continues saying that even that is nothing compared to what the Sagittarius Saint have sacrificed.
But now they are allies and will and fighting hand to hand is an honor!
Both Aioros and Saga attack Loki! Loki receives the attack but it did nothing!
The Gold Saints are surprised about the results of their efforts!
Loki responds them and say that he truly know the extent of the powers of the 12 Gold Saint. And now he will show them the extent of Gungnir´s Powers!
Loki prepares to attack and says that earlier they could interfere with his aim thanks to their Cosmos, but that won´t happen now!
Everyone uses their defensive techniques but they are useless! Gungnir destroy the barriers! Lyfia keeps praying.
Everyone barely makes it alive!
Loki goes to Aioria and puts away Draupnir´s Knuckle. He is ready to finish the Gold Saints starting with Aioria!
Lyfia keeps praying.
Suddenly Crimson petals starts falling from the skye, Loki is even more impressed than the Saints. Shaka can hear the voice of Athena from the Underworld.
Athena is saying that they must stand up and keep fighting. She has sent these petals with her blood from the underworld, even though her life is in danger in the battle against Hades, All of the Gold Saints start Crying for her compassion, and even now that she may die in any moment, she still protect her Saints.
Now all of them are fired up again! They will defeat this evil and save this world! Loki Can´t believe the rise on their Cosmo!
All of them are burning their Cosmo to the infinity!!
They have activated their Divine Armors! Loki has risen up to the sky in a black energy ball! Our Gold Saints Chase after him in Golden Energy ball!
Frodi and Sigmund are amazed of what is happening! Although they only have one chance! Hilda correct the and tells them that their Divine Armor now can be used indefinitivily thanks to the blood of Athena!
Loki attacks them but they avoid the attack!
Our Gold Saints starts attacking them and they are now hurting Loki! Our Saints are not fighting for them! But for those that are gone now, for the justice, for the bravery, for the tears, for the loved ones, and especially for the future Generations!
Mu gives to Aioria the Draupnir Knuckle and now is his turn to attack and finish Loki!
Loki warns Aioria saying him that his body can´t tolerate that much Cosmo! But Aioria responds to him that everyone of them are ready sacrifice their body and soul in order to fulfill this mission!
So Now Aioria Attacks! Loki faces it with the Gungnir Spear! The Cosmo of Aioria is so much that Loki says that it might come from a God, or maybe they have become divinities! But Aioria corrects him and says that they aren´t any of that, that their power comes from the people on the earth, the prays of Lyfia has reached everyone of the people and all of them are praying in order to help them! Faith can move mountains and it looks like it can increase the Cosmo Too!
The Gungnir Spear starts breaking! And the inmense attack reaches Loki!
The False God has been defeated once and for all! The world has been saved from Loki! The explosion is so big that even on the earth one can see it.
The Dawn has already came for this long night, Lyfia and the others Asgardians thanks Aioria and the other Gold Saints for fighting for them, and for what they did.
Aioria says that even though they did that, now the ever cold winter will come back to Asgard, Hilda comfort him telling him that the people of Asgard are tough, and can endure and even progress on this severe climate, and besides Odin is guarding them…So they will be fine.
Lyfia starts noticing that Aioria and the other Gold Saints body is disappearing.
Shaka says that it is time to them to return these bodies made from Odin and go back to the land of the dead. Lyfia is sad about that.
Aioria says that now their only concern is that they can´t help Seiya and the rest of the Bronze Saints against Hades now. Mu says that if they could at the very least gave them their Gold Armors.
Then a voice steps in.
He says he will give him a hand on that.
Hilda recognizes the voice and says that it comes from Poseidon, the greeck God of the Sea, and the God who once upon a time tricked Asgard and make them fought against Athena, only to later fight against Athena himself.
Poseidon, in the body of his vessel Julian Solo (Saori´s version of Poseidon) says that the Cosmos of the Gold Saints on it´s fight against Loki waked him up. He offers his help to send some Gold Armors to the Eysion fields, where Seiya and the others are (And as of right now are being kicked by Thanatos and Hypnos, but that´s another story)
Hilda confronts Poseidon for what he did back then. Aioria says that she is right, but right now they aren´t in any condition to choose. Since ven if they saved the world from Loki, if Seiya and the others can´t succeed against Hades, then their fight would have been for nothing since the world will be destroyed then.
With that, they accept the offer made by Poseidon.
Also Sorrento, Julian Solo´s Butler and the Poseidon Marine of Siren (Or Mermaid/Merman/Merbutler) is coming from his concert to the children ,since Julian Solo after the defeat of Poseidon decided to become a philanthropist.
The Gold Saints starts disappearing one by one, saying their goodbyes. Until Aioria is left alone with Lyfia.
Lyfia wants to tell her feelings for Aioria, but can´t say the words. Aioria looks at her and gives her his keepsake that he had from Aioros, now he wants her to have it. Lyfia starts crying.
Aioria starts telling her that she is strong, and he is sure that the people of Asgard are lucky and safe to have her as their Odin Representative.
Lyfia can´t contain her feelings and embrace Aioria while crying. Aioria pats her head gently and softly and comforts her and says that even if his body is no more, his Soul will always be with her.
Aioria disappears.
Lyfia tells her feelings that she loves him to Aioria´s memento and cries.
The Sun starts rising from the Asgard Mountains.
The Credits Start Rolling.
The Asgardian people, as Hilda said , are tough, and they are prospering on this Hard eternal Winter, even without Yggdrassil. Frodi and Sigmund are training the new warriors, and who knows?, maybe New God Warriors will come from it Now truly servants of Odin, and not misguided from another Divinity.
Lyfia is speaking to the children in a School/Church She says that they will never forget what those foreign warriors do, how they give their lives for Asgard, and how they will be ever grateful to those 12 Athena´s Gold Saints.
The End.
My Impressions.
Oh The Feels! The fight was Good and it truly made me sad when Lyfia was left alone without Aioria.
This is the end of this Long Journey on this Anime, These 6 months surely came fast ,huh? But now this is probably my last article for this series. I Don´t know if someone will do a Review for this Series, but I truly hope so! Since it would be interesting to read another take on this Series.
Either way. It was a fun Journey, and remember to Burn your Cosmo!