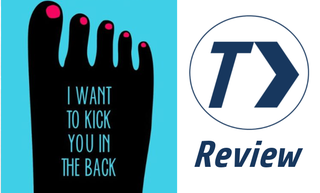 Explorations of the teenage mind are not in short supply these days but as a winner of Japan's prestigious Akutagawa Prize for rising literary talent, Risa Wataya's I Want to Kick You in the Back is an uncommonly sublime and textured look at the unclear feelings of a lonely teenager.
Hatsu has had a difficult first year in high school, having a hard time really feeling like she belongs with the rest of her classmates. Hatsu consigns herself to observing from the outside, caught between desiring to belong while believing that being chained down as part of a group might be even worse. However, Hatsu becomes acquainted with Ninagawa, a classmate who is devoted to a pop-idol named Oli-chan and has no interest in the actual girls surrounding him. As they spend more time together, Hatsu find herself developing an attachment not of romantic intent but of a desire to kick him in the back.
I Want to Kick You in the Back is a fascinating portrayal of a young girl's struggle to find meaningful relationships and connect with those around her, and this is in large part to Wataya's thoughtful style. This isn't a book that contains dramatic, life changing events but a careful exploration of ambivalence and loneliness while searching to fine oneself. Hatsu's story always feels very real, like something that could have happened at any high school and I found it easy to relate to some of the struggles she encountered. This pays off wonderfully as Wataya displays a great talent for perfectly drawing out these complex feelings just enough that readers are clear on what is going on without spelling out or dictating how to react.
Loneliness makes a sound. It's crisp and clear and loud, like an alarm bell going off between your ears. And it's enough to make your head feel ready to split.
Perhaps the most effective aspect of I Want To Kick You in the Back's portrayal of Hatsu's loneliness is the way in which it slowly become clear that she is an unreliable narrator. Initially, Hatsu's observations and reactions to her environment appear to be sound, making her seem like a genuine victim of her surroundings. It initially appears that she has been abandoned by her friends and that she simply does not fit in with the rest of her class. However, over the course of the book Wataya gradually introduces an increasingly distinct dissonance between Hatsu's reactions and the events that cause them and slowly suggesting to the reader that the root cause of Hatsu's unhappiness may not just be her surrounding environment but also the product of her mindset.
Wataya's choice to depict Hatsu as an unreliable narrator was a successful one as it added a lot of depth to Hatsu's personality beyond just rote description. In allowing readers to slowly come to their own conclusions about Hatsu's mindset, Wataya creates a powerful portrayal of the complexity of Hatsu's struggle that resonated with me and left me thinking about the book long after reading it. This is a clear case of the power of showing rather than telling, and I really felt that this suited a novel that contains no dramatic events but thrives on its interesting portrait of Hatsu's mind as she struggles through the occasionally mundane yet affecting events of everyday life.
Hatsu's search for meaningful relationships in spite of herself feels very authentic, as she does not have great moments of epiphany but slowly changes over time even if she does not realize it. She lashes out at her classmates, unwittingly preventing herself from getting what she actually longs for and it is satisfying to see her change gradually because of her relationship with Ninagawa. I felt the novel really excelled at emphasizing the complexity of feelings such as loneliness through Hatsu's perspective and this made the book stand out among its genre peers.
The final conclusion isn't dramatic event but feels satisfyingly real as a end to this story. Much like in real life, Hatsu doesn't change overnight and Wataya portrays just one particular stretch of her life and the small changes her personality makes over this time period. This subtle approach allowed me to relate effectively to the story, as it felt like Hatsu's story could easily represent a mindset that many feel to a degree. It was fascinating to see a deconstruction of these emotions even if Wataya never explicitly makes it clear that this is what is happening.
I Want to Kick You in the Back succeeds as a portrayal of a high school student's conflicted emotions as copes with loneliness and searches for a meaningful relationship. Wataya's story is a powerful one not because of any dramatic events that occur but because of the subtle examination of loneliness and ambivalence she allows readers to indulge in.
I Want to Kick You in the Back (Keritai senaka) was written by Risa Wataya and published in English on April 21st, 2015 by One Peace Books. Originally published in Japan in 2003, the book was the winner of the Akutagawa Prize for the second half of 2003 and has sold more than 1.3 million copies since its publication.
For more reviews, keep an eye on AniTAY as well as Taykobon, our new page for reviews of manga and light novels. You can also follow us on twitter @taykobon for more updates! If you've read this work or have any questions or comments, we would love the hear from you in the comments below!
*Copy provided for Taykobon by publisher.
If you enjoyed this review, you may enjoy these reviews: